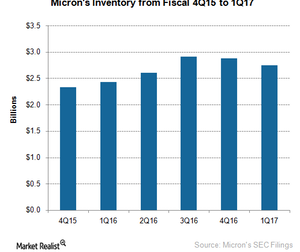 What Does Micron's Balance Sheet Say about Its Financial Health?
By Puja Tayal

Updated
Micron has a highly leveraged balance sheet
In the previous part of this series, we saw that through the Inotera acquisition, Micron Technology (MU) will increase its total debt to $12.0 billion in fiscal 2Q17. That comes from the $2.5 billion in new debt to fund the acquisition.
The company's cash reserves are unlikely to rise during the quarter since the company will spend all its free cash flow in capital expenditure.
Article continues below advertisement
Where is Micron spending its cash?
In fiscal 1Q17, Micron's operating cash flow rose $200.0 million sequentially to $1.1 billion. Despite that, its cash reserves fell from $5.0 billion in fiscal 4Q16 to $4.4 billion in fiscal 1Q17. That's because the company spent $500.0 million on the cash component of the Inotera acquisition and $1.2 billion on capital expenditure.
Micron's current priority is to raise its cash flow. It seems to be on the path to do that. It's investing in the advanced 1X DRAM (dynamic random access memory) and 3D (three-dimensional) NAND (negative-AND) technology, which would help it reduce cost and improve profit and cash flow. For fiscal 2017, Micron has allocated $5.0 billion to capital expenditure, which equates to ~$1.3 billion every quarter.
Once the company achieves the desired amount of cash flow, it will look to delever its balance sheet, according to Micron's chief executive officer D. Mark Durcan. Such high leverage would reduce the company's financial flexibility to take up larger investments or withstand major headwinds. The company's short-term liquidity is also strained.
Article continues below advertisement
Inventory
As the DRAM and NAND market face supply constraints, PC (personal computer) makers such as Hewlett-Packard (HPQ) and mobile handset makers are stocking up their memory inventory. That caused Micron's inventory to fall $139.0 million to ~$2.8 billion in fiscal 1Q17. Its inventory is likely to fall further in fiscal 2Q17 as demand outpaces supply.
Receivables and payables
In fiscal 1Q17, Micron's receivables rose 18.6% sequentially to ~$2.5 billion. Its payables rose 7.1% sequentially to ~$4.2 billion. Payables are more than receivables, indicating that the company owes more than what it has received.
However, things are improving for Micron in the short term since the memory market is showing favorable growth signs.
Next, let's look at the growth opportunities presented by the memory market in the short and long term.