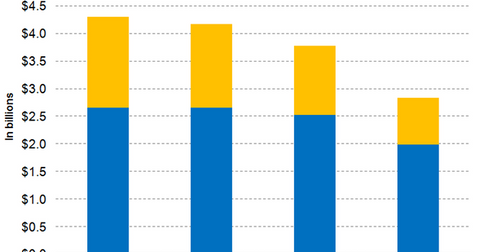 Merck's Zetia and Vytorin: More Generic Competition in 2017
By Margaret Patrick

Updated
Zetia and Vytorin patent expiry
The US patents of Merck's (MRK) cardiovascular drugs, Zetia and Vytorin, expire in April 2017. In May 2010, Merck and Glenmark Pharmaceuticals entered into an agreement that allowed the latter to launch a generic version of Zetia on December 12, 2016, or even earlier. Accordingly, Glenmark Pharmaceuticals launched the first generic version of Zetia in the US market. As generic competition continues to rise, Merck expects a steep fall in Zetia's revenues in the future.
According to MedicineNet.com, "Vytorin is a combination of ezetimibe (Zetia) and simvastatin (Zocor) that is used for treating high levels of cholesterol in the blood." As a result, Vytorin is expected to go off-patent with Zetia in April 2017.
Loss of Zetia and Vytorin's revenues might have a negative impact on Merck's share prices as well as the Vanguard Total Stock Market ETF (VTI). Merck account for ~0.71% of VTI's total portfolio holdings.
The above chart shows the falling revenue trend for Zetia and Vytorin since 2013. In addition to generic competition, Zetia and Vytorin also compete with statins such as Pfizer's (PFE) Lipitor, Astrazeneca's (AZN) Crestor, and Novartis' (NVS) Lescol.
Article continues below advertisement
International markets
In international markets, Zetia and Vytorin are marketed as Ezetrol and Inegy, respectively. Ezetrol is expected to lose its patent protection in most European markets by April 2018. Inegy might lose patent exclusivity in April 2019.
Adempas revenues
Based on a collaboration agreement entered in October 2014, Bayer AG holds commercial rights for a pulmonary arterial hypertension drug, Adempas, in the US. Merck has rights to the drug in international markets. Merck commenced marketing Adempas in European markets in 2016. In the first nine months of 2016, Merck recorded $120 million revenues attributed to Adempas.
In the next part, we'll analyze growth prospects for Merck's general medicine and women's health portfolio.