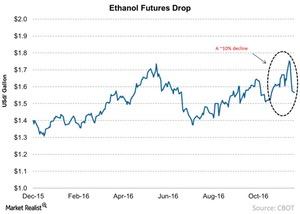 What May Have Caused Ethanol Prices to Fall Last Week?
By Adam Jones

Dec. 22 2016, Updated 11:05 a.m. ET
Ethanol futures fell
In the short to medium term, the ethanol industry faces headwinds. In the United States, ethanol companies are running on the back of the ethanol mandate, which requires a minimum ethanol blend in gasoline. Ethanol is a low-cost booster of octane in fuel. High-octane fuel is used in high-performance engines. Last week, ethanol prices fell steeply in the United States.
Article continues below advertisement
Why the fall?
In the United States, regulations mandate the use of biofuels in gasoline. Last week, president-elect Donald Trump selected Scott Pruitt as the next head of the EPA (Environmental Protection Agency). Pruitt has been against the ethanol mandate, which is known as the Renewable Fuel Standard.
The mandate requires the addition of biofuels into the US fuel supply in order to make a more environmentally friendly fuel. That's been the core value driver for many ethanol stocks (QCLN) such as Pacific Ethanol (PEIX), REX American Resources (REX), Green Plains (GPRE), and Renewable Energy Group (REGI).
Ethanol prices may have reacted to Pruitt's position on the ethanol mandate. The effect was seen in all of the above stocks. However, they've rebounded since then. This week, they were trading higher by about 4.0%.
Although Trump's selection of Pruitt as EPA head spurs speculation on ethanol stocks, it may not be so easy to do away with the ethanol mandate. Read on to the next part to find out why.