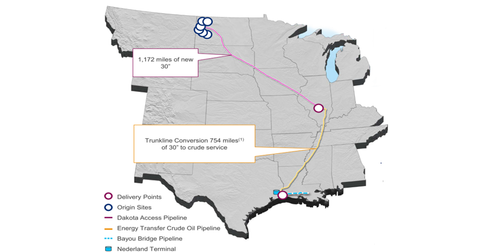 What Kept Energy Transfer Equity in the News during 2016?
By Kurt Gallon

Updated
DAPL project
Energy Transfer Equity (ETE) and its subsidiaries Energy Transfer Partners (ETP) and Sunoco Logistics Partners (SXL) remained in the news throughout 2016. This high visibility was mostly due to protests along Energy Transfer Equity's ambitious DAPL (Dakota Access Pipeline) project and events leading to the merger termination with Williams Companies (WMB).
The protest against the DAPL project began in early September 2016. Native Americans and environmental activists protested against the route of the DAPL pipeline, as it passes through North Dakota's Lake Oahe. Lake Oahe is a burial site and a major source of drinking water for the Standing Rock Sioux reservation, which is settled along the Missouri River.
Article continues below advertisement
DAPL background
DAPL (Dakota Access Pipeline) is part of the $4.8 billion Bakken Pipeline project that would move crude oil from the Bakken Shale formation to refineries on the Gulf Coast.
The protest ended with the US federal government's decision in favor of Native Americans. The Army Corps of Engineers denied the easement to drill under Lake Oahe. The project is in its advanced stage and the majority of the pipeline had already been laid. Only the section near Missouri River is left for drilling.
Energy Transfer Equity (ETE) has refused to reroute the pipeline and approached the court to overturn the federal government's decision. ETE tried to expedite the court proceedings considering its pending stake sale in the Bakken Pipeline project. We'll look more into this matter in a later article.
Bakken Pipeline is an important project for Energy Transfer Equity and its subsidiaries to continue growing their distributable cash flow. Now, the fate of the project lies with the incoming Trump administration to either reverse the decision or for Energy Transfer Equity to agree to reroute the pipeline. In either scenario, the project could involve extra costs and delays.
Williams Companies merger termination
Energy Transfer Equity (ETE) was among the most volatile stocks during 1H16. This volatility resulted from events leading to the merger termination with Williams Companies, including the removal of ETE's former CFO, Jamie Welch.
The partnership couldn't close an important merger with Williams Companies due to the lack of an important tax opinion and a decline in merger synergies following a fall in commodity prices.