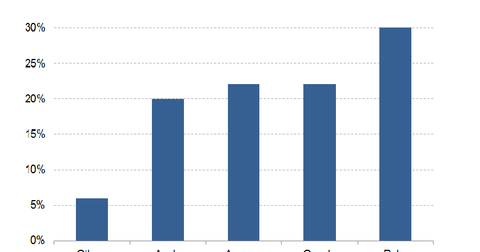 How Israel's Cellcom TV Launch Could Benefit Apple
By Ruchi Gupta

Updated
Israel's largest carrier launches on Apple TV
Apple's (AAPL) video streaming device Apple TV received a boost in Israel. The country's largest mobile carrier, Cellcom, has launched its fledgling online television service, Cellcom TV, on Apple TV. The move adds to the appeal of Apple's streaming media player, potentially boosting the device's uptake in Israel as well as Apple's revenues.
Article continues below advertisement
Cellcom TV
Designed to appeal to cord-cutters, Cellcom TV is disrupting Israel's television industry. Cellcom TV is rattling incumbent pay-TV providers YES and HOT. Cellcom TV, a multichannel television service that also includes on-demand video, boasts 100,000 subscribers and counting. The service can be compared to AT&T's (T) DIRECTV Now, Dish Network's (DISH) Sling TV, and Sony's (SNE) PlayStation Vue.
Although YES and HOT still have a tight grip on Israel's television market, Cellcom TV is steadily clawing away their market share. Cellcom TV added 12,000 users in the last quarter at a time when both YES and HOT shed subscribers.
The launch of Cellcom TV on Apple TV exposes the device to millions of Cellcom's mobile subscribers who may eventually move to the online television service. In addition to the direct benefit of selling to Cellcom's customers, YES and HOT may also challenge Cellcom TV by launching their rival services on Apple TV. This counterpunch would expand the product's addressable market.
Apple fights for the streaming media player market with Roku, Alphabet (GOOGL), and Amazon (AMZN).
In search of new revenue streams
Shrinking iPhone sales have left Apple looking for new revenue streams. The tech giant has launched Apple Watch, Apple Music, and its refreshed Apple TV as part of its efforts to unlock new growth and diversify its revenue streams.
Although the iPhone is Apple's lead product, stiff competition in the high-end smartphone segment resulted in limited iPhone uptake. This trend led Apple to book its third quarter of nonstop revenue declines in September 2016.