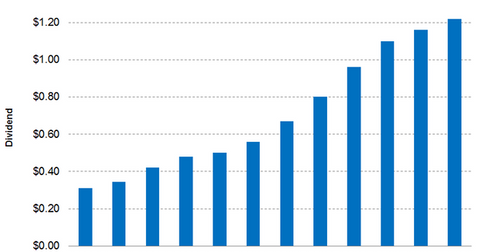 Is Albemarle's Dividend Yield Better Than Its Peers?
By Peter Neil

Updated
Albemarle's latest dividend
On November 3, 2016, Albemarle (ALB) announced a fourth-quarter dividend of ~$0.31 per share. The dividend will be paid on January 2, 2017, with a record date of December 15, 2016.
In the first nine months of 2016, Albemarle has paid a dividend of $101.1 million, which represents a dividend payout ratio of approximately 25.9%. It's very important that companies strike a balance between how much dividend should be paid to shareholders and how much earnings they should retain for future growth.
Article continues below advertisement
Dividend growth and dividend yield
Albemarle has raised its dividend per share for 11 consecutive years on a year-over-year basis. In 2005, Albemarle paid a dividend of $0.31 per share, and in 2016, it will pay a dividend of $1.22 per common stock. That implies a CAGR (compound annual growth rate) of 13.2% since 2005.
Taking into account the fourth-quarter dividend, Albemarle's dividend yield as of December 14, 2016, is ~1.4%. Albemarle's dividend yield is better than its peers. Assuming that the fourth-quarter dividends for Albemarle's peers will be similar to the 3Q16 dividends, FMC's (FMC) dividend yield is ~1.2%, and the dividend yield for W.R. Grace (GRA) is 1.0%. Chemtura (CHMT) doesn't have any dividend yield since it hasn't paid any dividends in 2016.
If you're looking for exposure to Albemarle through ETFs, you can invest in the Guggenheim S&P 500 Equal Weight Materials ETF (RTM). RTM has invested 4.2% of its portfolio in Albemarle as of December 14, 2016.
In the next part, we'll look at Albemarle's latest analyst recommendations.