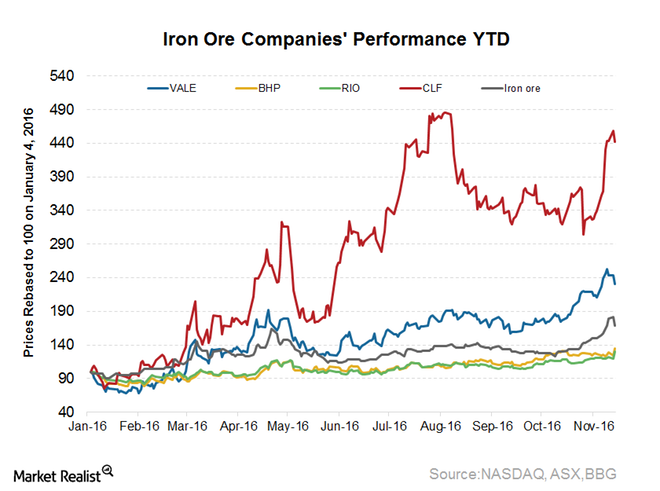 Which Iron Ore Miner Has Outperformed and Why?
Iron ore prices
Despite the majority of market participants expecting the contrary, iron ore prices have rallied in 2016. The stimulus provided by the Chinese government helped the construction sector, which stimulated demand for steel and iron ore.
Most recently, Donald Trump's US presidential win provided a renewed impetus to industrial metals, including iron ore.
However, apart from slight cutbacks in long-term production, the supply scenario hasn't changed much. Vale's (VALE) 90-million ton-per-year project, S11D, is still on track to come online in 2017. Australia's Roy Hill has already started shipping ore. Most analysts are still bearish (SPXS) on the medium- to long-term outlook for iron ore prices.
Article continues below advertisement
Performances of iron ore miners
Given stronger iron ore prices YTD (year-to-date), iron ore miners have recuperated from some of their losses. Cliffs Natural Resources (CLF) has outperformed its peers, with a YTD rise of 515% as of December 6, 2016.
Vale, Rio Tinto (RIO), and BHP Billiton (BHP) (BBL) have risen 180%, 38%, and 51%, respectively, during the same period.
In this series
In this series, we'll look at Wall Street analysts' recommendations and ratings for iron ore miners. Note that analysts' estimates usually lag behind price movements, and we see upgrades after stocks have risen. As for downgrades, we usually see them after a company sees lower prices.
That being said, changes in analysts' estimates are key drivers of short-term price movements. You should keep track of changes in analysts' estimates, as they offer insight into what the market expects from a given company. In the next part of this series, we'll look at iron ore price estimates.