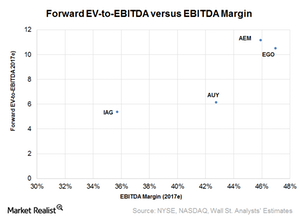 Which Intermediate Gold Miners Look Undervalued at Current Levels?
Intermediate gold miners
Intermediate gold miners aren't far behind senior gold miners in terms of mimicking gold price trends. These miners are smaller than senior gold miners in terms of production and market capitalization, but they're still generally liquid, unlike their junior counterparts (GDXJ).
Article continues below advertisement
AEM and EGO: Highest multiples
Among the North American intermediate gold miners, Agnico Eagle Mines (AEM) has one the highest EV-to-forward EBITDA[1. enterprise value to earnings before interest, tax, depreciation, and amortization] multiples of 10.5x. It also has the highest EBITDA margin among the group at 47%. It is also one of the best-managed gold companies.
While Agnico Eagle Mines trades at a 35% premium to the group average at a time when high-quality growth is so hard to come by, a bit of a premium seems justified. The company expects to provide another exploration update in February 2017, which could lead to a further rerating catalyst for the stock.
Eldorado Gold (EGO) has a low-cost, long-mine-life portfolio with a strong balance sheet. It has underperformed its peers year-to-date mainly due to regulatory and geographical concerns. It trades at a multiple of 11.2x.
With the apparent improvement in government relations in Greece and the resumption of the Skouries development, the stock has rerated. Its multiple has increased 22% since the start of the year. To learn more about Eldorado and its valuation, please read Could Eldorado Gold's Stock Make a Comeback at Long Last?
Article continues below advertisement
Rerating potential?
Yamana Gold's (AUY) valuation multiple of 6.1x is lower than Eldorado's and Agnico's multiples. Yamana's operational inconsistency has been a major investor worry, but the company has started to deliver consistently at all of its mines during the last few quarters.
Still, it could be some time before investors regain their confidence in the company. Moreover, with a weak gold price outlook, investors might wish to consider more operationally consistent and low-cost names.
Iamgold (IAG) has consistently traded at lower multiples than its peers (RING) (GDXJ). Currently, it has a forward EV-to-EBITDA multiple of 5.4x, which is 40% lower than the peer average. Its lower multiple is probably due to its above-average all-in sustaining costs and concerns regarding production falls in the medium term.
As you can see in the chart above, Iamgold has the lowest EBITDA margin in its peer group. In a weaker gold price environment, the multiple could further derate. Investors should note that it has increased 58% in 2016, mostly on the back of higher precious metal prices.
Investors can read IAMGOLD Is Riding High on Its Upbeat 3Q16 Earnings to gain more insight into the stock's fundamentals.