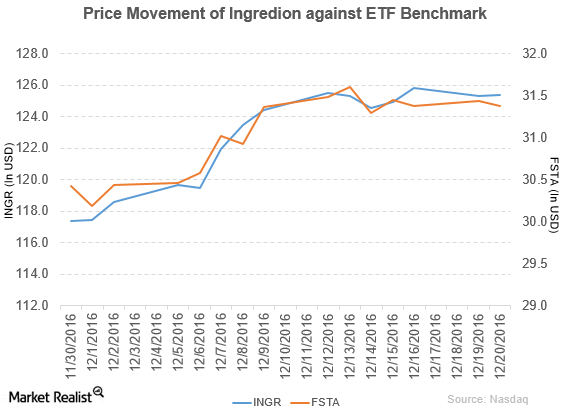 Ingredion Incorporated Acquired TIC Gums
Price movement
Ingredion (INGR) has a market cap of $9.0 billion and rose 0.06% to close at $125.37 per share on December 20, 2016. The stock's weekly, monthly, and YTD (year-to-date) price movements were 0.06%, 3.7%, and 32.4%, respectively, on the same day.
INGR is now trading 3.1% above its 20-day moving average, 0.33% below its 50-day moving average, and 1.7% above its 200-day moving average.
Article continues below advertisement
Latest news on Ingredion
In a press release on December 20, 2016, Ingredion reported the following: "Ingredion Incorporated (INGR), a leading global provider of ingredient solutions to diversified industries, announced today that it has entered into a stock purchase agreement to acquire all of the outstanding shares of TIC Gums Incorporated, a privately held, US-based company that provides advanced texture systems to the food and beverage industry. Its expertise with gum-based texturizes complements Ingredion's expertise in starch technology, opening the door to new texture solutions for today's food formulations."
The report also stated: "The acquisition has been approved by Ingredion's board of directors and the stockholders of TIC Gums. It is expected to close by the end of the year, subject to customary closing conditions."
It added that "Ingredion expects to fund the $400 million cash transaction with available cash and short-term credit." The transaction "is expected to be $0.04–$0.05 accretive to adjusted EPS in the first year."
Article continues below advertisement
Ingredion's performance in 3Q16
Ingredion reported 3Q16 net sales of $1.5 billion, which represents a rise of 3.6%, as compared to $1.4 billion in 3Q15. The company's gross profit margin and operating margin rose 180 basis points and 270 basis points, respectively, in 3Q16 YoY (year-over-year).
Its net income and EPS (earnings per share) rose to $143.4 million and $1.93, respectively, in 3Q16, as compared to $107.9 million and $1.48, respectively, in 3Q15. It reported adjusted EPS of $1.96 in 3Q16, which represents a YoY rise of 19.5%. INGR's cash and cash equivalents and inventories rose 73.0% and 2.9%, respectively, between 3Q16 and 4Q15.
Quarterly dividend
Ingredion has declared a quarterly dividend of $0.50 per share on its common stock. The dividend will be paid on January 25, 2017, to shareholders of record at the close of business on December 30, 2016.
Projections
Ingredion has made the following projections for fiscal 2016:
adjusted EPS of $6.95–$7.10
adjusted effective tax rate of 30.0%–32.0%
cash generated by operations of $725.0 million–$775.0 million
capital expenditure of ~$300.0 million
Now let's look at General Mills (GIS).