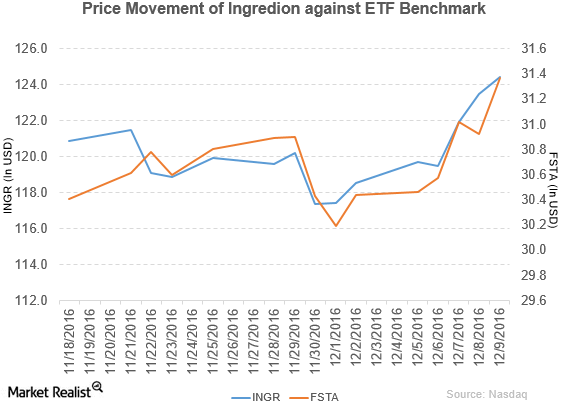 Ingredion Has Declared a Dividend
Price movement
Ingredion (INGR) has a market cap of $8.9 billion. It rose 0.77% to close at $124.42 per share on December 9, 2016. The stock's weekly, monthly, and year-to-date (or YTD) price movements were 4.9%, -0.72%, and 31.4%, respectively, on the same day.
INGR is trading 4.1% above its 20-day moving average, 1.9% below its 50-day moving average, and 1.6% above its 200-day moving average.
Article continues below advertisement
Ingredion declared a dividend
Ingredion has declared a quarterly dividend of $0.50 per share on its common stock. The dividend will be paid on January 25, 2017, to shareholders of record at the close of business on December 30, 2016.
Article continues below advertisement
Performance of Ingredion in 3Q16
Ingredion reported 3Q16 net sales of $1.5 billion, a rise of 3.6% compared to $1.4 billion in 3Q15. The company's gross profit margin and operating margin rose 180 basis points and 270 basis points, respectively, in 3Q16 compared to the prior year's period.
Its net income and EPS (earnings per share) rose to $143.4 million and $1.93, respectively, in 3Q16 compared to $107.9 million and $1.48, respectively, in 3Q15. It reported adjusted EPS of $1.96 in 3Q16, a rise of 19.5% compared to 3Q15. INGR's cash and cash equivalents and inventories rose 73.0% and 2.9%, respectively, between 3Q16 and 4Q15.
Projections
Ingredion has made the following projections for fiscal 2016:
adjusted EPS of $6.95–$7.10
adjusted effective tax rate of 30.0%–32.0%
cash generated by operations of $725.0 million–$775.0 million
capital expenditure of ~$300.0 million
In the next part of this series, we'll take a look at PACCAR (PCAR).