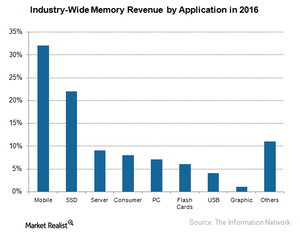 What Impact Does Micron's Product Mix Have on Its Earnings?
By Puja Tayal

Dec. 21 2016, Updated 7:35 a.m. ET
Micron's business segments
Micron Technology's (MU) profits have been low because the company's cost per bit has been higher than those of Samsung (SSNLF) and SK Hynix. Profits largely depend on the type of product mix adopted by the company.
In fiscal 2015 and 2016, when the DRAM and NAND market reported positive growth, Micron's revenue fell 1% and 23% YoY (year-over-year), respectively. This is because the company has strong exposure in the PC space.
Article continues below advertisement
Micron's product mix
Micron supplies memory chips in four major markets: computing and networking, mobile, storage, and embedded. Like Intel (INTC), Micron has been reducing its exposure in PCs to focus on storage, mobile, and embedded space. Micron managed to reduce its exposure to computing and networking from 45% in fiscal 2014 to 37% in fiscal 2016. But this continues to be the company's largest segment, and so the company is sensitive to weakness in PC and graphics space.
Micron has also been looking to increase its exposure in the mobile space but faced a delay in securing design wins for its 20 nm (nanometer) DRAM. Its exposure to mobile thus fell reduced from 22% of the fiscal 2014 revenue to 21% of the fiscal 2016 revenue.
But Micron succeeded in expanding its exposure in storage from 21% in fiscal 2014 to 26% in fiscal 2016. In storage, SSD (solid state drive) forms a small portion. A major portion is taken up by consumer products.
Memory industry forecast
According to forecasts from Information Week, mobile and SSDs would be the key growth drivers of NAND and DRAM revenue in fiscal 2016. Micron's product mix was not a favorable mix for higher profits and revenues.
Now, Micron is shifting its product mix away from PCs toward SSD, mobile, and graphics. It has secured design wins from several mobile customers and has released several new SSD products for clients and data center.
The impact of this new product mix would be visible in Micron's fiscal 2017 earnings. The company has reported strong earnings guidance for fiscal 1Q17 and expects to report an even stronger guidance for fiscal 2Q17.