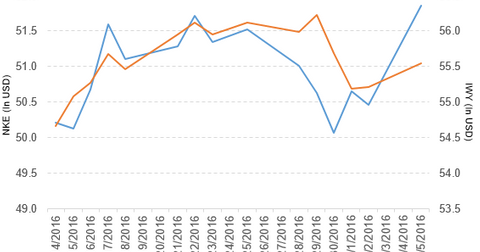 HSBC Securities Upgrades Nike to a 'Buy'
By Gabriel Kane

Dec. 6 2016, Published 2:46 p.m. ET
Price movement
Nike (NKE) has a market cap of $86.7 billion. It rose 2.8% to close at $51.85 per share on December 5, 2016. The stock's weekly, monthly, and year-to-date (or YTD) price movements were 2.0%, 4.6%, and -16.1%, respectively, on the same day.
NKE is trading 2.3% above its 20-day moving average, 1.0% above its 50-day moving average, and 7.1% below its 200-day moving average.
Article continues below advertisement
Nike's rating
On December 5, 2016, HSBC Securities upgraded Nike's rating to a "buy" from "hold" and also set the stock's price target at $60.00 per share.
On the same day, TheStreet reported, "Nike is still the 'captain of the industry' and has a 'pretty great underlying sector,' HSBC Managing Director Erwan Rambourg said on CNBC's 'Power Lunch' on Monday afternoon.
"Those who are weary of Nike are worried about market share loss to alternative players, but that's what happens when there's good growth in the sector, he noted. And these alternative players are going to have good and bad years too." 
Article continues below advertisement
Performance of Nike in fiscal 1Q17
Nike (NKE) reported fiscal 1Q17 revenues of $9.1 billion, a rise of 8.3% from $8.4 billion reported in fiscal 1Q16. Revenues from its Footwear, Apparel, and Equipment segments rose 6.8%, 8.9%, and 3.7%, respectively. Revenues from its Global Brand segment fell 42.3% between fiscal 1Q16 and fiscal 1Q17.
Nike's revenues from North America, Western Europe, Central and Eastern Europe, Greater China, and Japan rose 6.1%, 7.4%, 9.7%, 15.1%, and 36.9%, respectively, in fiscal 1Q17. Its revenues from emerging markets fell 2.2% YoY (year-over-year) in fiscal 1Q17.
Nike's net income and EPS (earnings per share) rose to $1.3 billion and $0.73, respectively, in fiscal 1Q17 compared to $1.2 billion and $0.67, respectively, in fiscal 1Q16.
Cash and cash equivalents
Nike's cash and cash equivalents fell 18.1%, and its inventories rose 10.9% YoY in fiscal 1Q17. Its current ratio fell to 2.7x, and its debt-to-equity ratio rose to 0.74x in fiscal 1Q17, compared to 2.8x and 0.61x, respectively, in fiscal 1Q16.
Next, we'll discuss WABCO Holdings (WBC).