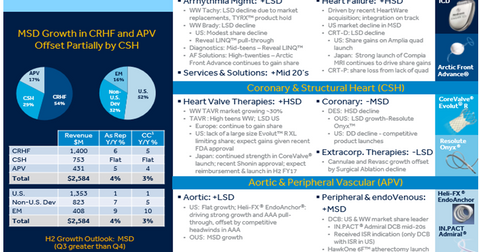 How MDT's Endurant II/IIs Stent Graft System Will Boost Business
By Sarah Collins

Updated
Medtronic's APV business
Medtronic's (MDT) Aortic & Peripheral Vascular (or APV) business is part of its Cardiac & Vascular Group (or CVG) segment. It's the company's largest segment, contributing ~35% to its total revenue in fiscal 2Q17.
However, the company reported a lower-than-expected performance in the segment in fiscal 2Q17. For more on Medtronic's CVG segment's performance in fiscal 2Q17, read Understanding Medtronic's Weak CVG Segment Performance in Fiscal 2Q17.
Medtronic's APV business witnessed flat growth in the Unites States, whereas it saw mid-single-digit growth outside the United States. The company is a leader in the drug-coated balloons (or DCB) market. PACT Admiral DCBs are its leading products.
You can invest in the iShares Core S&P 500 ETF (IVV). MDT accounts for ~0.52% of IVV's total holdings.
Article continues below advertisement
Endurant II/IIs Stent Graft System
On December 6, 2016, Medtronic announced CE Mark approval for the use of its Endurant II/IIs Stent Graft System with the ChEVAR technique for the treatment of AAA (abdominal aortic aneurysm) patients. According to Medtronic, ChEVAR is a "parallel graft chimney technique that uses commercially available balloon expandable covered stents combined with a standard aortic stent graft."
Some players providing competition to Medtronic in the AAA device market include Endologix (ELGX), Lombard Medical (EVAR), and Johnson & Johnson's (JNJ) Cordis.
According to MedlinePlus, "An aortic aneurysm is a stretched and bulging section in the wall of the aorta. The aorta is the large artery that carries oxygen-rich blood from the heart to the rest of the body. An abdominal aortic aneurysm happens in the section of the aorta that is in the belly."
The expanded indication has expanded Medtronic's target base. Its Endurant II/IIs Stent Graft System can now be used to treat patients with complex aneurysms and short aortic neck lengths greater than or equal to 2 mm. In the United States, Medtronic's Endurant II/IIs stent system is approved for neck lengths greater than or equal to 10 mm.
The clinical study PROTAGORAS was carried out in 128 patients. According to Professor Giovanni B. Torsello, co-author of the PROTAGORAS study, "Treating aneurysm patients with short aortic necks has been a long-time challenge for clinicians performing endovascular aneurysm repair (or EVAR) to treat AAA patients. The availability of a standardized approach which increases anatomical applicability will help establish a new standard for patients with complex forms of AAA that may not have been suited for previous procedures."
Next, let's discuss the CE Mark approval of the HVAD (Heartware ventricular assist device) system for less invasive procedures.