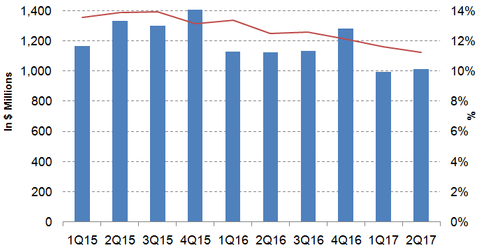 How Did Oracle's Hardware Segment Perform in Fiscal 2Q17?
By Anne Shields

Updated
Hardware segment revenue continues to fall
Earlier in this series, we discussed the continued decline in server market revenues and shipments. Let's see how Oracle's Hardware segment performed in fiscal 2Q17.
In fiscal 2Q17, Oracle's (ORCL) Hardware segment reported revenues of ~$1.0 billion, which represents an 11% fall on a YoY (year-over-year) basis. In constant currency terms, the segment saw a 10% fall in revenues.

The Hardware segment primarily refers to high-performance databases, servers, and storage. This segment has been declining in the last few years, as the server market has also experienced a downfall.
Article continues below advertisement
Oracle launched new offerings to revive growth in its Hardware segment
In our December 14, 2016, Oracle series, we discussed threats faced by the company in the DBMS space. Despite mounting competition, Oracle is still the undisputed leader of the DBMS space.
According to Gartner, "Oracle's range of DBMS offerings continues to grow. The company provides multiple DBMS (RDBMS, NoSQL, streaming, and mobile) as stand-alone software, on appliances and in the cloud."
The company's recently launched Oracle Database 12c Release 2 in the Oracle Cloud to improve its performance in the overall cloud space. Based on Exadata hardware, this release also provides developers with a foothold in Oracle's cloud.
According to Oracle, its DBaaS (database-as-a-service) cloud revenue grew 700% to $100 million in fiscal 2Q17 and was responsible for driving growth in its Database business.
IaaS launch
In fiscal 2Q17, Oracle (ORCL) launched its second-generation IaaS (information-as-a-service) offering, Oracle Bare Metal Cloud. Bare Metal Cloud was designed and developed by a team with experience working with Amazon's AWS, Microsoft's (MSFT) Azure, and Google (GOOG).
Oracle's outspoken chairman and chief technology officer, Larry Ellison, opined that Oracle's offering was better than Amazon.com's (AMZN) AWS. On September 18, 2016, Ellison stated, "Our Generation2 IaaS delivers twice the compute, twice the memory, four times the storage and ten times more I/O at a 20% lower price than Amazon Web Services."
In our view, Oracle launched its Bare Metal Cloud at an opportune time, as it's usually more beneficial to sell incremental or higher-level SaaS or PaaS offerings than a basic IaaS offering. Software and cloud players that have more to offer than a basic IaaS product can charge for the underlying infrastructure, as well as a premium for additional services.
Later in this series, we'll discuss Engineered Systems, which continues to be a highlight of Oracle's Hardware segment.
You may consider investing in the SPDR S&P 500 ETF (SPY) to gain exposure to Oracle, which makes up 0.7% of SPY. Application software also comprises ~7% SPY.