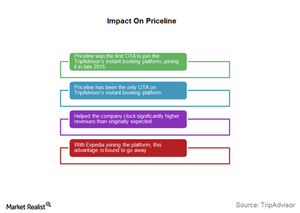 How Could Expedia's Instant Booking Partnership Affect Priceline?
By Ally Schmidt

Dec. 27 2016, Updated 4:35 p.m. ET
Priceline joins long back
Priceline (PCLN) was the first OTA (online travel agent) to become part of TripAdvisor's Instant Booking platform, joining it in late 2015. The Priceline partnership was an important step in the Instant Booking platform's success.
Priceline's Booking.com has 1 million listed accommodations spanning 225 countries and 96,000 destinations. Reaching this level of inventory by forming partnerships with different hotels would have taken a long time for TripAdvisor to build. TRIP makes up 1.6% of the First Trust NASDAQ-100 Ex-Tech Sect ETF (QQXT).
Article continues below advertisement
End to a monopoly
For a long time, Priceline was the only OTA on TripAdvisor's Instant Booking platform. Other partners included hotel chains like Marriott (MAR), Hyatt (H), and Intercontinental Group (IHG). As a result, Priceline could enjoy a sort of monopoly on the platform. This helped the company post significantly higher revenues than originally expected.
With Expedia joining the platform, this advantage could be greatly diminished. In our view, investors can expect some slowdown in growth.
What does this mean for TripAdvisor?
One major advantage for TripAdvisor (TRIP) could be the fact that it expects to be the only website that offers users a chance to book through both the major OTAs as well as major hotel chains.
This also gives TRIP the opportunity to provide the lowest prices for a particular booking. Along with an increased number of bookable properties, this could help attract more customers to its Instant Booking platform.