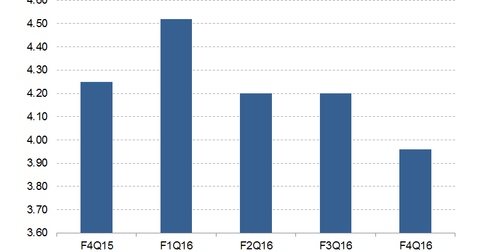 Disney's Cable Networks: Is There Hope for a Rebound?
By Ruchi Gupta

Dec. 1 2016, Published 3:32 p.m. ET
Tapping into the streaming services movement
The Walt Disney Company's (DIS) cable networks had a rough year in fiscal 2016 as ESPN continued to bleed subscribers and ABC's ratings kept plunging. But there seems to be a ray of hope that Disney could turn around its struggling cable network operation.
While cord-cutting[1. cancelling pay-TV subscriptions] has been disruptive for Disney's cable business, it could also be an opportunity the company could tap. The lower barrier to entry into the online video streaming business means that the market is heating up with competition. Providers are now looking for opportunities to differentiate their offerings.
Netflix (NFLX) and Amazon (AMZN) have been producing original programs as part of their service differentiation. But adding live sports could be another major differentiator.
Article continues below advertisement
Amazon is mulling over live sports
According to a Wall Street Journal report, Amazon is exploring the idea of adding a premium sports package to its streaming video service. The report said Amazon has approached several TV networks, including Disney, to discuss game content rights.
Disney's ESPN could generate extra income by licensing sports rights to Amazon. Disney could enter into similar deals with Netflix, Hulu Dish Network (DISH), AT&T (T), and Sony (SNE) to add live sports to their streaming services and improve the appeal to Millennials.
In addition to generating extra income from licensing unused game rights, collaboration with streaming services such as Netflix could give Disney the opportunity to appeal to Millennials with its bundled cable services. Perhaps that could at least help ESPN halt its subscriber loss.
AT&T's DirecTV Now is set to launch this week in New York City with 100 channels. It will cost $35 per month. But AT&T is aware of the competition in the streaming video market. It's also trying to acquire Time Warner (TWX) to bolster DirecTV Now. The need to differentiate DirecTV Now could see AT&T partnering with ESPN for premium sports content.