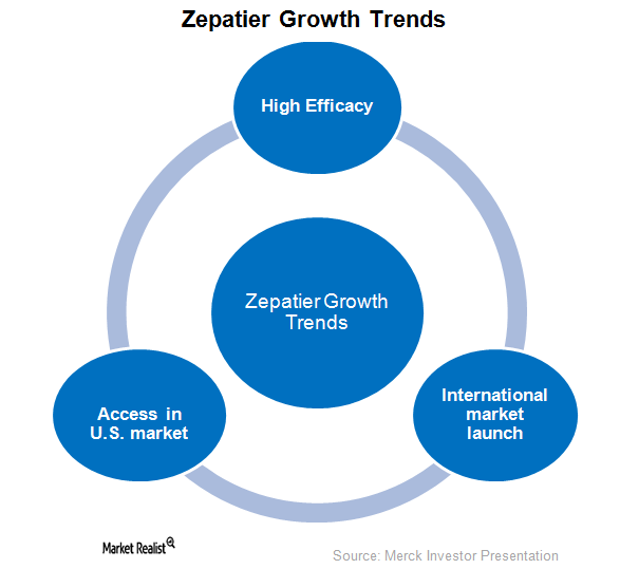 Zepatier Should Boost Merck's Profit Margins in the Future
By Margaret Patrick

Dec. 30 2016, Updated 9:05 a.m. ET
Zepatier's growth prospects
On January 28, 2016, Merck's (MRK) Zepatier secured approval from the FDA as a therapy for adult patients suffering from genotype 1 or genotype 4 HCV (Hepatitis C). Launched in the US market in February 2016, Zepatier is expected to enable Merck to pose competition to other HCV players such as Gilead Sciences (GILD), Bristol-Myers Squibb (BMY), and AbbVie (ABBV).
According to Merck's 10Q filing, "Zepatier is a once-daily, fixed-dose combination tablet containing the NS5A inhibitor elbasvir (50 mg) and the NS3/4A protease inhibitor grazoprevir (100 mg)." If Zepatier is successful commercially, it might have a positive impact on Merck's share prices as well as the Vanguard High Dividend Yield ETF (VYM). Merck accounts for ~1.8% of VYM's total portfolio holdings.
Article continues below advertisement
High efficacy
In Phase 3 trials, Zepatier demonstrated high sustained virologic response (or SVR) of 94%–97% in genotype 1 HCV patients and 97%–100% in genotype 4 HCV patients. According to Merck's 10Q filing, "Sustained virologic response is defined as HCV RNA levels measuring less than the lower limit of quantification at 12 weeks after the cessation of treatment, indicating that a patient's HCV infection has been cured."
Based on high efficacy, FDA granted two breakthrough therapy designations to the drug—one as a therapy for genotype 1 HCV patients with end-stage renal disease and on hemodialysis and another as a treatment option for genotype 4 HCV patients. Merck's 10Q filing explains that "Breakthrough Therapy designation is given to investigational medicines for serious or life-threatening conditions that may offer substantial improvement over existing therapies."
Article continues below advertisement
US market
In 2016, Merck managed to negotiate reimbursement with both public and private payers in the US such as Veteran Affairs, Medicaid, Medicare Part D, and commercial insurers. In most cases, the formulary access has been effective since July 1, 2016, or will be applicable from January 1, 2017. Since there's a time lag between drugs getting covered by health insurance players and patients starting the drug, Zepatier continued to witness a gradual revenue rise in 2016.
International market launch
The European Commission approved Zepatier in the European Union market in July 2016. Merck is also preparing for the drug to launch in the Japanese market. The trends are expected to boost Merck's profit margins in the future.