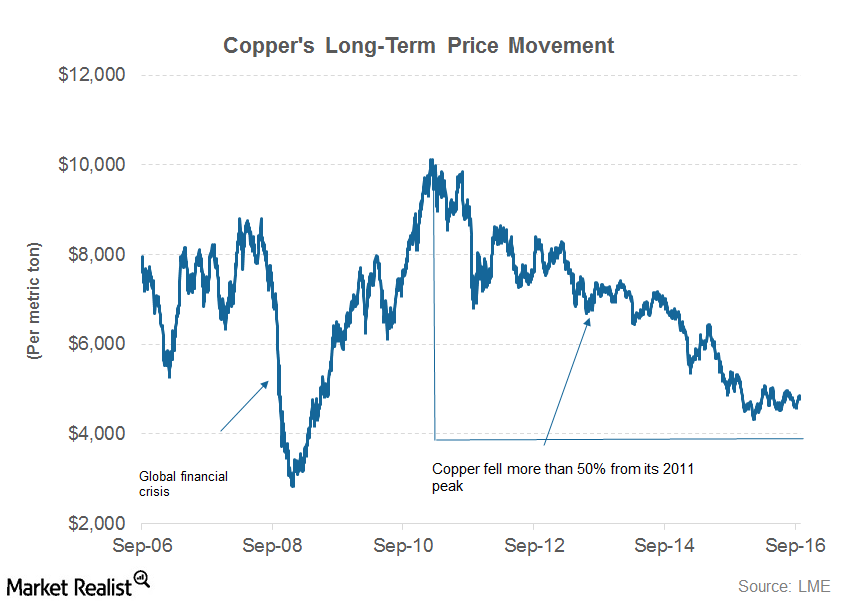 Has the Commodity Cycle Turned Around?
By Mohit Oberoi, CFA

Dec. 20 2016, Updated 12:35 p.m. ET
Commodity cycle
The US is gearing up for Donald Trump to become its 45th President. After the recent US election results, commodities including copper started a steep rally. Trump's proposed infrastructure investments have so far boosted commodity prices (DBC) and could continue to boost US copper demand. Meanwhile, markets seem to have repriced copper for an expected increase in US copper demand.
Article continues below advertisement
Miners rallied
Copper has been on a losing streak for the past five years. Copper finally broke the $5,000 per metric ton level—decisively this time—and briefly topped $6,000 per metric ton. Copper producers including Freeport-McMoRan (FCX) and Southern Copper (SCCO) had been trading in a narrow price channel for a few months until the rally following the election results.
But the upward price action isn't limited to copper producers. We saw a broader rally in metal and mining shares, with diversified miners like Rio Tinto (RIO) and BHP Billiton (BHP) seeing renewed buying interest after almost five years of depressed commodity prices.
Series overview
While copper and other metals recovered from their multiyear low price levels, there are lingering concerns about the sustainability of the rally. Several analysts doubt the recent uptrend in metals, and many analysts expect prices to pare some of their gains once the euphoria over Trump's proposed infrastructure investments dies down.
In this series, we'll analyze the factors that are driving the current uptrend in copper prices. We'll also see how Freeport and copper could play out next year under Trump's presidency.
Let's begin by analyzing how the US federal funds interest rate hike could impact copper markets.