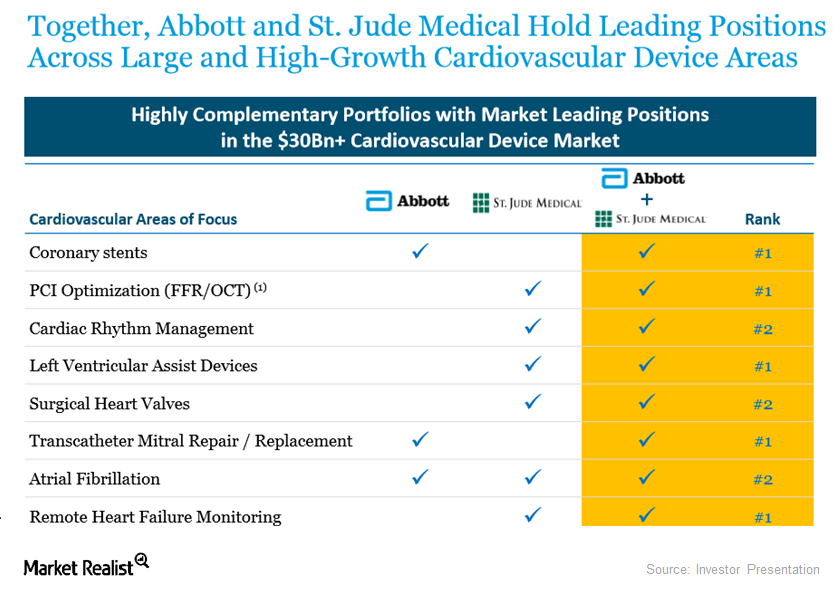 FTC Approved Abbott's Acquisition of St. Jude Medical
By Sarah Collins

Dec. 30 2016, Updated 9:24 a.m. ET
Abbott-St. Jude deal status
The FTC (Federal Trade Commission) has approved the $25 billion acquisition of St. Jude Medical (STJ) by Abbott Laboratories (ABT) subject to certain conditions. These conditions are meant to preserve competition in some of the medical device markets in the United States. The deal will help Abbott Laboratories better compete with major cardiac device players in the United States such as Boston Scientific (BSX) and Medtronic (MDT). The below diagram shows the presence of both the companies in various areas in the cardiovascular device market. To learn more about the deal, read Huge Deal in the Healthcare Space: Abbott Buys St. Jude Medical.
Article continues below advertisement
Anti-competitive nature of the deal
The FTC has stated that the deal is anti-competitive and will limit competition in the US cardiac device market. As per the FTC, the combined company after Abbott's acquisition of St. Jude Medical will have a monopoly over the vascular closure devices market with control of more than 70% of the market. Moreover, it will own almost all of the steerable sheaths market.
Also, Abbott is required to notify the FTC if the company intends to acquire Advanced Cardiac Therapeutics' lesion-assessing ablation catheters business. This requirement is because St. Jude Medical along with Advanced Cardiac Therapeutics hold the entire lesion-assessing ablation catheters market in the United States. Thus, after the acquisition of St. Jude Medical, if Abbott acquires Advanced Cardiac Therapeutics, it will have a monopoly in this market space.
Divestment conditions
The proposed consent order requires that Abbott Laboratories divest its steerable sheath business and St. Jude Medical divest its vascular closure device businesses to Tokyo-based medical device manufacturer Terumo and assist the company in establishing related manufacturing capabilities.
Investors interested in gaining exposure to St. Jude Medical, Abbott Laboratories, and peers in the US medical device industry can invest in the iShares U.S. Medical Devices ETF (IHI).