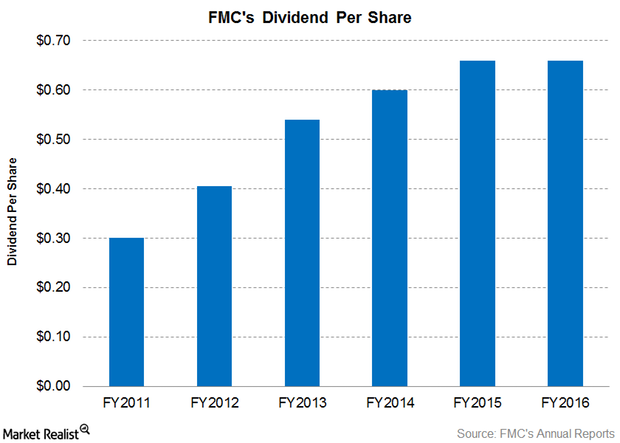 FMC Announces Its Dividend for 4Q16
By Peter Neil

Dec. 19 2016, Updated 1:05 p.m. ET
FMC announces dividend
On December 15, 2016, FMC's (FMC) board declared a fourth quarter dividend of $0.17 per share. The dividend will be paid on January 19, 2017, with a record date of December 30, 2016. The total dividend paid to shareholders is $0.66 per share in 2016. FMC's dividend rate remained stagnant on a YoY (year-over-year) basis.
Article continues below advertisement
Dividend growth and yield
In the past six years, FMC's dividend growth is showing an upward trend on a YoY basis. In 2011, the company paid a dividend of $0.30 per share. In 2016, considering the announced 4Q16 dividend will be paid, the dividend per share will be $0.66. It implies a compound annual growth rate of 17.1% since 2011.
As of December 16, 2016, FMC's dividend yield stood at 1.2% compared to some of its peers such as Albemarle (ALB) and W.R Grace (GRA). Their dividend yields were ~1.40% and 1.0%, respectively.
FMC's stock price
On December 16, 2016, the stock closed at $57.48 and fell ~2.30% for the week. The First Trust Indxx Global Agriculture ETF (FTAG), which holds 7.70% in FMC as of December 16, gained 1.4% for the week and closed at $23.45. FMC's stock price closed ~15.20% higher than the 100-day moving average price of $49.90. It indicates an upward trend in the stock. Analysts expect FMC's 12-month target price to be at $56.73. However, the stock is already trading above the target price. On a year-to-date basis, FMC has gained 46.90%.
Investors can indirectly hold FMC by investing in FTAG. The fund's top holdings include stocks like Dow Chemical (DOW) and DuPont (DD).