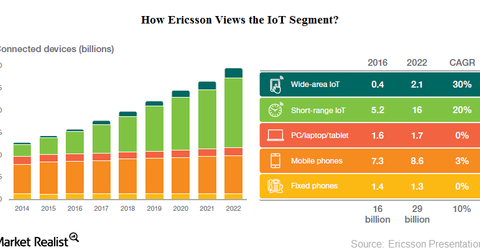 Why Ericsson Is Eyeing the Internet of Things Space
By Adam Rogers

Updated
Growth in number of connected devices
Due to the prevalence of cheaper smartphone models, there's been a rise in the number of connected devices. According to Ericsson's (ERIC) recent Mobility Report, mobile phones make up the largest category of connected devices.
By 2018, mobile phones are expected to be surpassed by IoT (Internet of Things) devices, including connected cars, machines, utility meters, remote metering, and consumer electronics. The number of IoT devices is expected to grow at a CAGR (compound annual growth rate) of over 20% between 2016 and 2022. By 2022, Ericsson expects the number of connected devices to reach 29 billion.
The report suggests that by 2022, there will be over 1.5 billion IoT devices with cellular connections. The IoT segment has attracted a number of companies, including semiconductor heavyweights such as Intel (INTC), Micron (MU), and Qualcomm (QCOM).
Article continues below advertisement
Ericsson partners with KDDI in the IoT space
In June 2016, Ericsson announced a partnership with Japan-based (DXJ) KDDI to deploy the Ericsson Device Connection Platform. According to Ericsson, this partnership will provide enhanced connectivity services to KDDI's enterprise customers. It will also support the deployment of IoT solutions on a global scale.
Ericsson's DCP (device connection platform) is a cloud-based IoT platform. This should help KDDI to offer enterprises several IoT solutions such as connectivity management, subscription management, network connectivity administration, and flexible billing services.