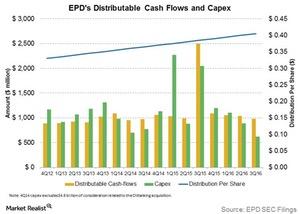 Enterprise Products Partners: Taking the Organic Growth Route
EPD's capital expenditure
Enterprise Products Partners (EPD) has spent $2.6 billion in capital expenditures in the first nine months of 2016. In comparison, EPD's capital expenditures for 2015 were $6.4 billion.
The company expects its 2016 growth capital expenditure to be around $3.1 billion. EPD has $5.6 billion of growth capital projects under construction that are expected to become operational before the end of 2018.
Jim Teague, chief executive officer of Enterprise's general partner, said in the company's 3Q16 earnings release, "We currently have $5.6 billion of growth capital projects under construction that will begin commercial service between now and the end of 2018, including our PDH facility, the Midland-to-Sealy crude oil pipeline and a third natural gas processing plant in the Delaware Basin. We expect these projects to support continued distribution growth for our partners."
After withdrawing its interest in the acquisition of Williams Companies (WMB), organic growth projects seem to be the key driver for EPD's future growth. We'll take a closer look at EPD's upcoming capital projects in the next part.
Article continues below advertisement
EPD's distributable cash flows
As the above graph shows, Enterprise Products Partners' distributable cash flows have remained pretty stable, even during the challenging commodity price environment since mid-2014. In 3Q15, its distributable cash flows were higher due to $1.5 billion of proceeds from the sale of its offshore Gulf of Mexico business.
Enterprise Products Partners reported distributable cash flow of $978.0 million in 3Q16.
EPD's distributions
Enterprise Products Partners' 3Q16 distributions rose 5.2% year-over-year to ~$0.41 per share. That figure represents the company's 49th consecutive quarterly rise. EPD's coverage ratio for 3Q16 is ~1.2x.