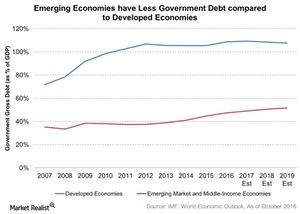 Is Emerging Market Exposure Still a Smart Move?
VanEck
Be Savvy and Opportunistic Amid the Volatility
Given the uncertainty in the market, economic and political developments (or even an off-the-cuff early morning tweet by President-elect Trump) are likely to keep volatility elevated in the near term.
We believe investors should keep two things in mind. First, the positive note is that from a static perspective, emerging markets fundamentals (growth, debt stock, real rates, and policy flexibility) remain at a favorable starting point relative to developed markets as we enter 2017. While current accounts are more of a mixed story, in many cases they have improved. On the other hand, the less positive note is that the range of potential outcomes in 2017 – for U.S. rates, growth and inflation, EU and Japanese monetary policy – is extraordinarily wide, with opposite or divergent outcomes possible depending on the course of events. While emerging markets assets can do better in 2017 than the recent press and analyst coverage may suggest, we believe that being savvy and opportunistic (and contrarian) about adding exposure could help enhance the risk/reward.
Article continues below advertisement
Market Realist
Fundamentals still support emerging markets
It's important to note that 2016 was favorable for emerging market economies (EEM). Higher commodity prices and better fundamentals drove the performance. The demand for emerging market bonds improved when fear of rate hikes abated throughout the year. However, recent events impacted the emerging debt market's performance.
Fundamentals are still favorable for emerging debt markets (EMB) (EMAG) (IGEM) with less government debt compared to developed economies improving their credit quality. The above chart shows the total government debt as a percentage of GDP. Developed markets are leading with a substantial amount of government debt. It's expected to rise in the coming years, according to forecasts from the International Monetary Fund.
Can you still be optimistic about emerging market debt?
Most analysts expect Trump's presidency and higher inflation rates in the US to weigh on emerging markets. However, HSBC had some comforting views on this. According to CNBC, in a note in November, analysts at HSBC Bank stated, "Although the early bout of selling did look indiscriminate, emerging markets with strong domestic growth profiles and structural reform momentum may provide a degree of insulation for investors. Foreign appetite for EM bonds may return to markets with 'positive local factors,' such as India, Indonesia, Brazil, and Russia, though demand may take a hit in the near term."
Despite the recent drawdown, with an attractive risk-reward profile, emerging market bonds provide investors with diversification benefits along with exposure to emerging countries' economic growth. In a scenario like this when developed market (IHY) bonds are trading at low to negative yields, it would be a good move to expand your portfolios with emerging market bonds.