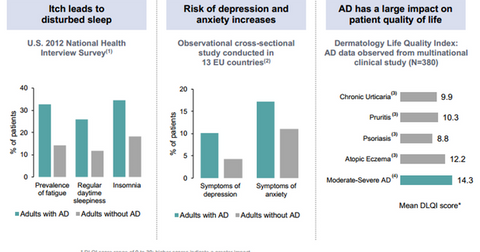 Dupixent Might Help Diversify Regeneron's Business Model
By Margaret Patrick

Updated
Dupixent's growth prospects
The FDA set the Prescription Drug User Fee Act date for the approval of Sanofi (SNY) and Regeneron's (REGN) Dupixent (Dupilumab) biologics license application as a treatment for uncontrolled moderate to severe AD (atopic dermatitis) as March 29, 2017. The application is being reviewed under priority status. Dupixent is a IL-4 and IL-13 blocker. It has also been explored for multiple allergic diseases.
If Dupixent manages to secure FDA approval, it might have a positive impact on Regeneron's share prices as well as those of the PowerShares QQQ (QQQ). Regeneron accounts for 0.74% of QQQ's total portfolio holdings.
Article continues below advertisement
According to Regeneron's 10Q, "IL-4R is required for signaling by the cytokines IL-4 and IL-13. Both of these cytokines are critical mediators of immune response, which, in turn, drives the formation of Immunoglobulin E (IgE) antibodies and the development of allergic responses, as well as the atopic state that underlies atopic (allergic) dermatitis, asthma, nasal polyps, and eosinophilic esophagitis. Dupilumab is a fully human monoclonal antibody generated using our VelocImmune technology that is designedto bind to IL-4R alpha subunit and block signaling from both IL-4 and IL-13."
Atopic dermatitis demand
The above graph shows the burden of disease borne by patients suffering from AD. The impact on patients' quality of life, as measured in a multinational clinical study by the Dermatology Life Quality Index, is the highest in cases of moderate to severe AD.
According to Sanofi's IR Thematic Call on Dupilumab, "Atopic dermatitis is an inflammatory skin disorder which is characterized by chronic or relapsing inflamed skin with intractable itching or pruritus. The disease has a complicated pathogenesis with multiple interrelated internal and external factors that contribute to immune dysfunction and an impaired skin barrier resulting in the symptoms."
Statistics highlight the scale of unmet demand present in the AD segment. It could be a strong growth opportunity for Dupixent. It might enable Regeneron to diversify its revenue base and become strong competition for other biotechnology companies such as Amgen (AMGN), Biogen (BIIB), and Celgene (CELG).
In the next part, we'll analyze the clinical trial data for Dupixent in more detail.