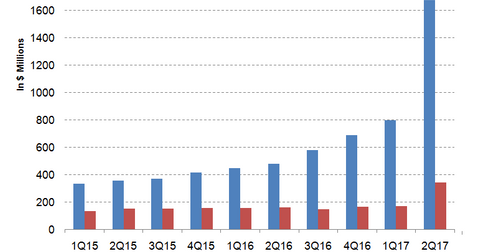 What Could Drive Oracle's SaaS and PaaS Revenue Growth?
By Anne Shields

Updated
NetSuite acquisition
Earlier in this series, we discussed the performance of Oracle's (ORCL) subsegments that comprise the company's overall cloud revenues. Oracle is reporting a rapid growth in the SaaS (software-as-a-service) space, which is touted as its fastest-growing segment of the cloud space.
Despite facing several hurdles, Oracle completed its acquisition of NetSuite in November 2016. During its fiscal 2Q17 earnings release, Oracle stated, "With the acquisition of NetSuite, we plan on being the #1 cloud applications service provider for companies with less than 1,000 employees as well."
Oracle is hopeful that the NetSuite integration can boost its SaaS and PaaS (platform-as-a-service) revenues. Oracle expects its SaaS and PaaS revenues to grow 82%–86% in the current quarter.
With respect to Salesforce.com's (CRM) offerings, Oracle's chairman and CTO, Larry Ellison stated, "When Salesforce.com crossed the billion dollar milestone their SaaS and PaaS subscription growth rate had slowed down to 36%, even after you include all their acquisitions."
Article continues below advertisement
Oracle leads the enterprise SaaS space
In its fiscal 2Q17 earnings press release, Oracle's co-CEO, Mark Hurd, stated, "Oracle has now passed salesforce.com and become number one in SaaS cloud applications sales to customers with over 1,000 employees according to the latest IDC report." 
Hurd added, "In other words, this year we are selling more enterprise SaaS than any cloud services provider in the world."
During the company's fiscal 2Q17 earnings call, Hurd compared its cloud revenues with its peers Amazon (AMZN), Salesforce, and Workday (WDAY). Hurd stated that Oracle's SaaS and PaaS revenues "were up 89%, more than 30% higher than Amazon, Salesforce or Workday."
Mike Shirer, a spokesman for IDC, confirmed that the firm's analysis found that Oracle led in large enterprise sales. However, he said, "The second statement is incorrect in that it implies Oracle is selling more enterprise SaaS than any other provider." He added, "The two statements do not actually align."
IDC has yet to release its report on the SaaS sector for 2016. With a 5.2% market share, Oracle was ranked in fourth place in the SaaS sector in IDC's 2015 report. Salesforce, SAP (SAP), and Intuit (INTU), were all ranked higher than Oracle.