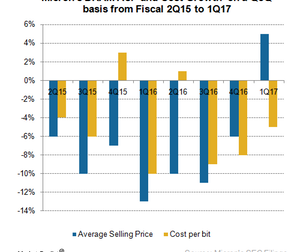 DRAM Market Conditions Favorable for Micron's Earnings
By Puja Tayal

Updated
Micron's earnings from DRAM
In the previous part of this series, we saw that Micron Technology (MU) reported strong revenue and profits as the demand and prices for DRAM (dynamic random access memory) and NAND (negative-AND) rose and supply fell.
Micron's DRAM revenue rose 24.0% sequentially to $2.4 billion in fiscal 1Q17 as DRAM prices rose 5.0% and sales volume rose 18.0%. DRAM's gross margin rose from 20.0% in fiscal 4Q16 to 28.0% in fiscal 1Q17 as the cost for DRAM fell 5.0%.
In fiscal 2Q17, Inotera's gross margin will be added to Micron's margin, which should increase the DRAM margin by 100 basis points to 200 basis points. Micron expects gross margins for DRAM to rise from 22.7% in fiscal 2016 to 35.6% in fiscal 2017.
Article continues below advertisement
Micron's DRAM product mix
Micron's DRAM earnings are reaching the 2014 level and may rise further as DRAM's total addressable market increases. In 2014, DRAM was mainly used in PCs (personal computers), but now PCs command only 24.0%–26.0% of Micron's DRAM sales.
The company has been focusing on mobile DRAM. The effect was visible in fiscal 1Q17 as mobile DRAM's contribution toward DRAM revenue rose from 25.0% in fiscal 4Q16 to 30.0% in fiscal 1Q17. Micron's major design win in the mobile space was Apple (AAPL).
Micron earned 17.0%–19.0% of its DRAM revenue from servers and about 25.0% from specialty DRAMs used in networking, graphics, auto, and other embedded technologies. It received a strong demand from Nvidia (NVDA) in the graphics space.
Micron's efforts in the DRAM space
Micron's 20 nm (nanometer) DRAM output crossed the 25 nm DRAM output in fiscal 1Q17. The company will now start the deployment of the 1x node and start volume production in the second half of fiscal 2017. With this transition, the company expects to reduce DRAM cost by 20.0%–25.0% in fiscal 2017.
DRAM market outlook
Micron expects the DRAM industry's supply to rise 15.0%–20.0% in 2017, assuming that Samsung (SSNLF) and SK Hynix don't add wafer capacity. It expects supply growth to come purely from advanced nodes of memory manufacturers. On the demand front, Micron expects DRAM demand to rise 20.0%–25.0% in the long term.
Credit Suisse expects DRAM supply to rise 18.0% and demand to rise 29.0% in 2017, creating an undersupply. It expects PC DRAM prices to rise more than 25.0% due to PC makers' lean inventories and supply constraints in the DRAM market.
These favorable market conditions would drive Micron's DRAM earnings in fiscal 2017. Its NAND earnings would also improve in fiscal 2017. We'll look at the factors that would drive NAND growth in the next part of this series.