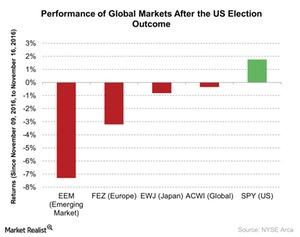 Does Trump's Win Increase the Probability of a Yuan Devaluation?
By Sarah Sands

Updated
Donald Trump's policies
The US market has been showing strength since Republican presidential candidate Donald Trump won the presidential election over Democratic candidate Hillary Clinton. The market rally has mainly been driven by optimism about the US economy.
Many market participants believe that the Trump administration will be business friendly. Under Trump's presidency, the US economy (IWF) (VOO) will likely experience huge investments in various businesses, which should boost economic growth (QQQ).
Article continues below advertisement
The optimistic view of the US economy is bringing investments into riskier US assets such as equities and the dollar index (UUP). According to Russell Clark, a money manager at Horseman Capital Management, investments in riskier US assets are making Asian currencies weaker. He also said that Trump's win could raise the probability of a yuan devaluation.
Trump's economic policies aim to boost jobs by removing regulations on certain sectors, imposing trade barriers, reducing the tax rate, and stimulating growth through fiscal stimulus. These factors could lead to growth in the US economy (SPY) (SPXL).
Trump said during his campaign that he will put higher import duties on various Chinese products, which will promote the domestic market in the United States (SPY) (IWM). His protectionist approach could restrict financial and trade flows between the United States and China.
China's financial system
Trump's win may thus lead to a further devaluation of the yuan. A yuan devaluation would increase China's (FXI) export competitiveness. Currently, China's financial system is showing some pressure. The debts of some businesses haven't been fully recovered. The PBOC (People's Bank of China) is selling government bonds and putting pressure on bond prices. So the bond yield is also rising. It's ultimately putting pressure on the currency.
According to Clark, if China devalues its currency enough, it will increase export competitiveness. That will bring some investments into the country, and bond prices will rally.
In the next part of this series, we'll look at some investment opportunities in the current situation when a lower interest rate policy is at the bottom.