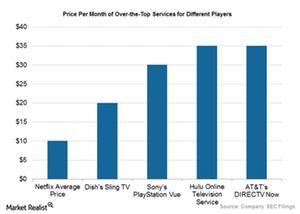 Dish's View of AT&T's DIRECTV Now Service in Terms of Pricing
By Shirley Pelts

Updated
Sling TV pricing versus DIRECTV Now pricing
As the OTT (over-the-top) market continues to be flooded with new entrants, pricing of the service is also becoming important. While Dish Network's (DISH) Sling TV is priced at $20 and its packages at different price tiers, the newest entrant in the OTT landscape, DIRECTV Now, is priced at $35.
During its fiscal 3Q16 earnings call, Dish Network was asked about its view of DIRECTV's pricing of DIRECTV Now. The company stated that considering that DIRECTV Now, priced at $35, offered around 100 channels, the question remained whether a subscriber would be willing to pay more for these channels. The company cited the example of its Sling Orange pack, priced at $20, which is priced ~75% lower than DIRECTV Now.
Article continues below advertisement
Dish also stated that it believed that the different price tiers of its Sling TV service gave subscribers more choices in terms of channels they wanted to watch than DIRECTV Now. The company also stated that when it comes to the content delivery network costs for its Sling TV, they are significantly lower than their costs four to five years ago.
Comparing AT&T's pricing
As shown in the chart above, Netflix's (NFLX) plans average around $10 per month, and Hulu's online television service is expected to cost $35 per month. DishTV (DISH) offers 30 channels of streaming TV on its Sling TV service for $20 per month. Sony (SNE) offers over 50 channels of streaming TV on its PlayStation Vue service for $30 per month.
At the Goldman Sachs Communacopia Conference in September, Netflix admitted that although it was underpriced compared to its peers, it believes this underpricing has been "balanced to some degree in terms of the price that consumers have been anchored on Netflix."