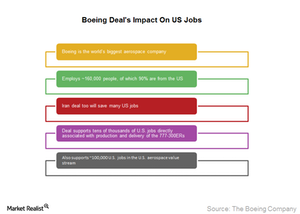 How Will the Boeing-Iran Deal Affect US Jobs?
By Ally Schmidt

Dec. 13 2016, Updated 1:35 p.m. ET
Boeing on creating US jobs
Boeing (BA) is the world's largest aerospace company. It's also the largest US exporter, exporting almost 3% of all its goods. These exported goods were worth ~$53 billion in 2014.
Currently, Boeing employs ~160,000 people. Of these, more than 90% are from the United States. About 35% are union members, making Boeing one of the largest union employers.
Boeing's Iran Air deal will save many US jobs. According to a statement released by Boeing on December 11, 2016, this deal will "support tens of thousands of U.S. jobs directly associated with production and delivery of the 777-300ERs and nearly 100,000 U.S. jobs in the U.S. aerospace value stream for the full course of deliveries."
Article continues below advertisement
Iran deal a lifeline to Boeing 777 300ERs
The highly successful wide-body aircraft 777 is Boeing's cash cow. However, Boeing has been planning to cut its production, given the fact that orders for the 777 have been drying up.
Boeing already plans to cut the 777 production rate to seven units per month from the current rate of 8.3 per month. This production will be further reduced to 5.5 per month in 2018. Following orders from Qatar Airways and Swiss International Air Lines, slots for 2017 and 2018 are 85% and 60% sold out, respectively.
However, 2019 slots are just 20% sold out. In a worst-case scenario, in which Boeing cannot procure more orders for the 777, it will cut its production to just 3.5 units per month in 2018 and rise again slightly as production shifts to the 777X. Investors and Boeing workers can now both be happy that the worst-case scenario won't be playing out.
Investors and Boeing workers can now both be happy that the worst-case scenario likely won't be playing out.
Boeing forms ~9.5% of the iShares US Aerospace & Defense ETF (ITA). ITA holds 9% in United Technologies (UTX), ~7.9% in Lockheed Martin (LMT), 6.5% in General Dynamics (GD), and 6.5% in Raytheon (RTN).