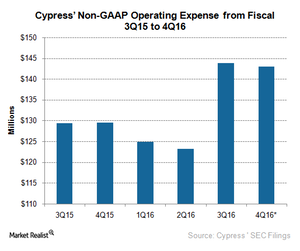 Understanding Cypress's Restructuring Strategy
By Puja Tayal

Updated
Restructuring aimed at cost savings
Cypress Semiconductor (CY) is on track to improve its gross margin to its target model of 50% through restructuring and merger synergies. The company announced its restructuring plan immediately after it completed the acquisition of Broadcom's (AVGO) wireless IoT (Internet of Things) business.
As a normal routine, a company restructures its business after acquisitions in order to remove duplication and realize cost synergies. Intel (INTC) and Avago underwent restructuring after acquiring Altera and Broadcom, respectively. However, that doesn't seem to be the case with Cypress.
Article continues below advertisement
Cypress restructuring plan
Cypress is transforming its business to become the chip supplier of the future. This has called for a major restructuring, under which the company is making leadership changes, refocusing its operations toward key growth areas and selling non-core businesses. All this could result in 500 job cuts, which would amount to 8% of Cypress's total workforce of more than 6,500.
The company aims to reinvest the cost savings brought by the restructuring into the business, and this aim makes it clear that the restructuring is not directed at cost savings but at refocusing the company's operations in and around the high-growth areas of IoT, industrial, and automotive.
Cost synergies
In the meantime, Cypress continues to enjoy cost synergies from the Spansion merger. In fiscal 3Q16, Cypress realized $44 million in cost synergies from the Spansion merger, of which $13.4 million came from the cost of goods sold, $28.8 million from operating expenses, and $1.7 million from interest and tax. The company also realized $400,000 in cost synergies from the Broadcom wireless IoT acquisition.
Cypress expects to realize total cost savings of $180 million from the Spansion merger by the end of fiscal 2016.
Article continues below advertisement
Operating expenses
The above cost synergies helped Cypress reduce its non-GAAP (generally accepted accounting principles) operating expenses from $129 million in fiscal 3Q15 to $123 million in fiscal 2Q16. Operating expenses rose 16.7% sequentially in fiscal 3Q16 due to the integration of the wireless IoT business.
For fiscal 4Q16, the company expects its operating expenses to remain flat at around $143 million at the midpoint of the guidance. This comes to 27% of the company's revenue, just below its target of less than 30%.
Divestments
Another key aspect of the restructuring is divestments. In fiscal 3Q16, Cypress sold its DecaTech business in the Emerging Technology Division for $111 million. The company has also classified its Minnesota fab as held for sale as it seeks a buyer.
Next, we'll discuss how the above cost synergies and restructuring efforts could impact Cypress's operating and net profit.