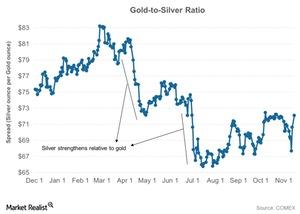 Could the Gold-Silver Spread Revert in the Long Run?
By Meera Shawn

Updated
Gold-silver ratio
When analyzing the precious metals market, it's crucial to take a look at the relationship between gold and silver. Precious metals surged at the start of 2016. However, the past few months have been choppy, and precious metals have fallen drastically. 
Silver has risen ~20%, while gold has risen nearly 10% since the beginning of 2016. The gold-silver spread was trading at 69.8 on December 5, 2016. The spread suggested that it took almost 69 ounces of silver to buy a single ounce of gold. The peak of the gold-silver spread was close to 85 in late 2008.
The gold-silver spread has fallen drastically since the beginning of 2016. The most recent spread marked gold's highest premium over silver since July. A fall in the spread means comparative strength for silver, as it would take fewer silver ounces to buy a single ounce of gold.
Article continues below advertisement
Mean-reverting
The gold-silver spread could average out to 60 over a particular span of time. The spread fell to its lowest level in three decades in 2011, when gold rose to a record high. In a bull market for precious metals, silver usually outperforms gold. The opposite tends to be the case in a bear market. The spread recently rose due to a comparatively large fall in silver. When silver outperforms gold, the ratio falls, and when gold outperforms silver, the ratio tends to rise. The average value of this ratio has been ~60 in the last 20 years.
The performances of gold and silver can also affect funds such as the Physical Silver Shares ETF (SIVR) and the Physical Swiss Gold Shares ETF (SGOL). Mining stocks are also affected by precious metals, especially gold and silver. Silver Wheaton (SLW), Yamana Gold (AUY), Sibanye Gold (SBGL), and Gold Fields (GFI) have suffered over the past month due to falls in their prices.