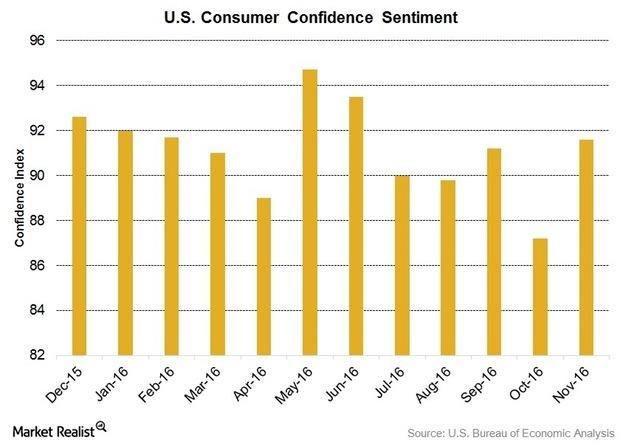 Consumer Sentiment Index Surges to 2.9% Following Trump's Win
By VanEck

Dec. 14 2016, Published 10:27 a.m. ET
In contrast, however, weak data were reported for U.S. employment, the preliminary University of Michigan Consumer Sentiment Index[2. The University of Michigan Consumer Sentiment Index is a consumer confidence index published monthly by the University of Michigan. The index is normalized to have a value of 100 in December 1964. Each month at least 500 telephone interviews are conducted with a continental United States sample.], the Empire State Manufacturing Index[3. The Empire State Manufacturing Index is based on the monthly survey of manufacturers in New York State and conducted by the Federal Reserve Bank of New York. The index is based on survey responses to a questionnaire sent out on the first day of each month to an unchanged pool of about 200 top manufacturing executives, generally the president or CEO. The questionnaire seeks their opinion on the change in a number of business indicators from the previous month, and also the likely direction of these indicators six months into the future.], housing starts, and the U.S. Consumer Confidence Index[4. The U.S. Consumer Confidence Index (CCI) is an indicator designed to measure consumer confidence, which is defined as the degree of optimism on the state of the economy that consumers are expressing through their activities of savings and spending.]. While 3Q gross domestic product (GDP) headline growth was above consensus, personal consumption missed expectations by a wide margin. By mid-October, regional Fed growth forecasts were being downgraded. The Federal Reserve Bank of New York's 4Q 2016 GDP Nowcasting Report, for example, shows 1.4% growth as of October 20 versus 2% growth in late August. In this environment, a rate hike does not appear to us as the obvious next move by the Fed, but the market is pricing it in, and both gold and the U.S. dollar reflected this in October. While gold was down 3%, the U.S. Dollar Index (DXY)[5. The U.S. Dollar Index (DXY) indicates the general international value of the U.S. dollar. The DXY does this by averaging the exchange rates between the U.S. dollar and six major world currencies: Euro, Japanese yen, Pound sterling, Canadian dollar, Swedish kroner, and Swiss franc.] was up 3% during the month.
Article continues below advertisement
Market Realist – US Consumer Sentiment Index hits 13-month low
During the presidential campaigns, the US economy was faced with tremendous uncertainty. The Consumer Sentiment Index (or CSI) reached 87.2, its lowest level since September of last year. This was primarily due to consumers' anticipation of an economic downturn and volatile (VXZ) (VIXY) prospects for the national economy.
According to many economists, every statement addressed by the president-elect may impact financial (KBE) (XLF) markets, which could mean a long period of uncertainty. Unexpectedly, the preliminary reading of the Consumer Confidence Index rose to 91.6 in November due to consumers' (XLP) (XLY) certainty about future and present conditions and higher inflation expectations.
Also, the US economy's GDP growth (IWF) (IWO) stood at 2.9% in 3Q16, compared with 1.4% in 2Q16. This higher growth was due to contributions from exports, private inventory investments, personal consumption, and federal government spending. Trump's plan to impose trade tariffs on Mexico (EWW) and China (FXI) (EWH) and focus on immigration could have an adverse effect on world (ACWI) (VEU) trade and currencies.