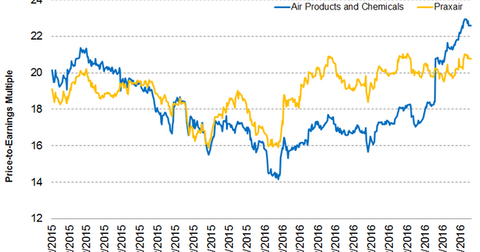 Comparing Air Products and Chemicals's Valuations to Its Peers
By Peter Neil

Dec. 22 2016, Updated 12:36 p.m. ET
Air Products and Chemicals's forward PE
The forward PE (price-to-earnings) multiple is a relative valuation method that considers a company's future earnings in its calculation. On December 14, 2016, Air Products and Chemicals (APD) was trading at a one-year forward PE multiple of 22.6x, compared to Praxair's (PX) one-year forward PE multiple of 20.8x.
The forward PE ratio tells us how much investors are paying per dollar of expected earnings for the next 12 months. Using the PE ratio, investors can compare two or more companies operating in the same industry and decide which stock is overvalued or undervalued.
Article continues below advertisement
APD trades at a premium to Praxair
Air Products and Chemicals (APD) is currently trading at a premium compared to its peer Praxair (PX). In the past three years, both APD and PX have seen their revenues decline. APD's revenues fell from $10.4 billion in 2014 to $9.5 billion in fiscal 2016. APD follows a financial reporting period from October 1 to September 30. However, Praxair's revenue has fallen at a greater pace, from $12.3 billion in 2014 to its expected $10.5 billion in 2016.
Air Products and Chemicals's net profit margin has been growing since 2012 from 10.7% to 16.2% in 2016. The increase in net profit margin is mainly attributed to the reduction in the cost of goods sold and a decrease in selling, general, and administrative expenses.
On the other hand, Praxair's cost of goods sold has been on the rise since 2014. APD had backlog orders of $1.1 billion on September 30, 2016, which means its revenues should be growing upon execution.
Investors could be willing to pay a higher price for a company that has a history of margin and revenue growth.