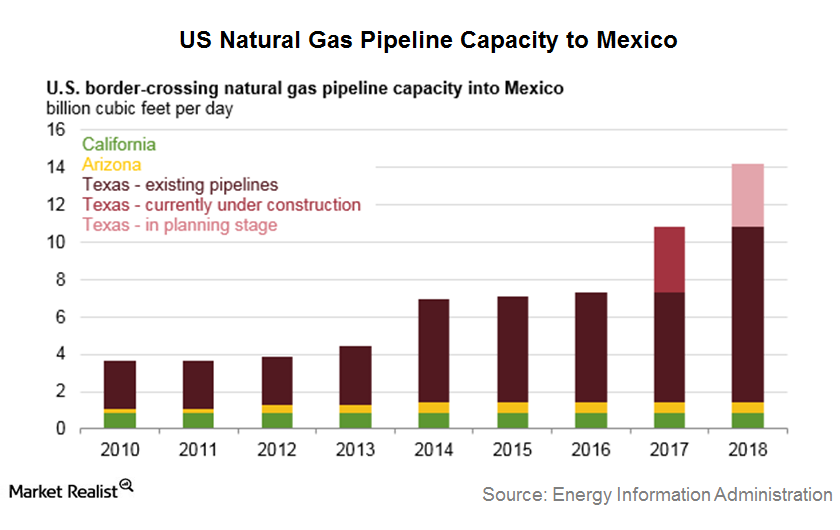 Which Companies Could Benefit from Higher Pipeline Exports to Mexico?
By Kurt Gallon

Dec. 21 2016, Updated 10:37 a.m. ET
Pipeline exports to Mexico
In the previous article, we looked at the recent trend in natural gas (UNG) pipeline exports to Mexico (EWW). In this article, we'll look at the current pipeline capacity to Mexico and the upcoming pipeline expansion projects. First, let's look into Mexican natural gas demand.
Article continues below advertisement
Mexican natural gas demand
Natural gas imports by Mexico have increased over the last year, driven by higher usage of natural gas for power generation. According to a recent report by the EIA (Energy Information Administration), "Mexico meets almost half of its natural gas demand with imports. Mexico's pipeline imports from the United States have increased significantly, and in 2015, accounted for 80% of Mexico's natural gas imports. Lower-priced natural gas from the United States is gradually displacing LNG imports."
The Mexican government is spending heavily to build out its domestic import infrastructure to boost natural gas imports from the US. According to a recent report by the IEA (International Energy Agency), "Gas accounts for almost 70% of the growth in primary energy demand to 2040, while oil demand is essentially flat and coal declines."
Upcoming projects
Currently, the US has ~7.5 Bcfpd (billion cubic feet per day) of pipeline capacity to Mexico. Kinder Morgan (KMI) has the highest natural gas pipeline export capacity to Mexico. The US pipeline capacity to Mexico is expected to nearly double in the next three years to meet the growing demand of natural gas from Mexico. A few major projects include:
Trans-Pecos Pipeline: Energy Transfer Partners's (ETP) Trans-Pecos Pipeline expansion is a $1.4 Bcfpd intrastate pipeline as part of an agreement with Mexico's Federal Electricity Commission. The project is expected to be placed into service in 1Q17.
Comanche Trail Pipeline: Energy Transfer Partners's Comanche Trail Pipeline expansion is also in agreement with Mexico's Federal Electricity Commission with $1.1 Bcfpd of transportation capacity. The target in-service date is January 2017.
Roadrunner Gas Transmission: Phase 1 of Oneok Partners's (OKS) Roadrunner Gas Transmission with 170 MMcfpd (million cubic feet per day) was completed in February 2016. The next two phases have been announced with target in-service dates of 2017 and 2019.
Nueva Era Pipeline System: This includes two pipeline projects by Nueva Era Pipeline, with total pipeline capacity of 1.1 Bcfpd. The Nueva Era Pipeline is a joint venture between HEP (Howard Energy Partners) and Grupo Clisa. EnLink Midstream Partners (ENLK) owns 35% OF HEP.
In the next article, we'll look at the recent trends and outlook of US LNG exports.