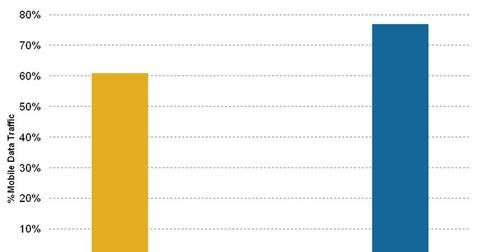 How Does Comcast View Its Wireless Strategy?
By Shirley Pelts

Dec. 22 2016, Updated 7:35 a.m. ET
Comcast's wireless strategy
We've seen widespread speculation that Comcast (CMCSA) is set to compete with wireless providers AT&T (T), Verizon Communications (VZ), T-Mobile (TMUS), and Sprint (S). These speculations arose when the company filed a bid to participate in the FCC's (Federal Communications Commission) 600 MHz (megahertz) broadcast television spectrum incentive auction in 2016.
However, Comcast put an end to this speculation at the Goldman Sachs Communacopia Broker Conference in September 2016. The company stated that it expects to launch its wireless service by mid-2017. It also recently recruited Greg Butz to head its wireless business.
Comcast talked about the wireless market at the UBS Global Media and Communications Conference earlier in December. According to the company, it's optimistic about its entry into the wireless market, and it's working on an "exact offering" to bring to its customers.
Mike Cavanagh, Comcast's senior executive vice president and chief financial officer, stated, "It's the right thing for us to be doing at this stage, and maybe when we're sitting here in a year we'll have some kind of results to point to."
Article continues below advertisement
Comcast's MVNO agreement with Verizon
However, the company explained that its entry into the wireless market wouldn't be a capital intensive process. Cavanagh specified, "It will be an approach where the acquired subs are going to have a lifetime NPV [net present value] positive on a standalone basis, so this is not something that we're looking to subsidize out of the existing business."
The company reiterated at the UBS conference that it believes it has a good value proposition in its MVNO (mobile virtual network operator) agreement with Verizon. The company believes that with the renewal of its 2011 agreement with Verizon, it could generate more value for its shareholders.
According to Cisco Systems' (CSCO) VNI (Visual Networking Index), at the end of 2015, video accounted for ~61.0% of mobile data traffic in the United States. By the end of 2020, analysts estimate that this figure could expand to ~77.0% of mobile data traffic in the United States.