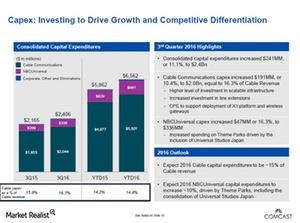 Why Does Comcast Expect a Rise in Its Capex?
By Shirley Pelts

Dec. 4 2020, Updated 10:43 a.m. ET
Comcast expects a rise in capex
Comcast (CMCSA) continues to expect Comcast Cable's capex (capital expenditure) as a percentage of revenue to be flat at 15% in 2016, which means it expects the segment's absolute capex to rise. The rollout of CPE (customer-premises equipment) relating to the X1 set-top box largely drove capex for Comcast Cable in 3Q16.
The company expects its X1 set-top box penetration to be 50% by the end of 2016. Comcast stated at the UBS Global Media and Communications Conference earlier in December that the rollout of its X1 set-top box continues to be a priority. 
Comcast also stated at the conference that it's important for it to invest in DOCSIS (Data Over Cable Service Interface Specification) 3.1 technology to provide higher Internet speeds to its users and to have a broadband product that differentiates it from its competitors.
Comcast expects its NBCUniversal business's capex to rise 10% in 2016. The company plans to continue to invest in its theme parks and in the consolidation of Universal Studios Japan (EWJ).
Article continues below advertisement
Another reason that Comcast could be focused on investing in the rollout of X1 and DOCSIS 3.1 technology could be the revenue losses it faces when it loses customers. According to a FierceCable report citing Craig Moffett, an analyst with MoffettNathanson, Comcast loses $5.50 per Xfinity Video customer each month when the customer moves away from pay-TV but keeps Comcast's Internet service.
Comcast Cable's capex in 3Q16
Comcast recorded total capex of $2.4 billion in 3Q16, a rise of 11.1% year-over-year. Comcast Cable recorded capex of $2 billion in 3Q16, a rise of 10.4% over 3Q15. This growth was mainly driven by the rollout of CPE for its X1 platform.