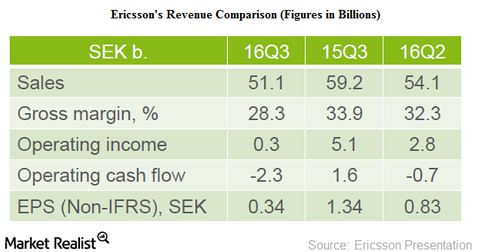 How a Challenging Macroeconomic Environment Is Impacting Ericsson
By Adam Rogers

Updated
Weak demand for mobile broadbands
Ericsson (ERIC) has been facing a challenging macroeconomic environment for awhile now. At the company's investor event in November 2016, it stated that a challenging environment, primarily in emerging markets, had impacted the investment levels of telecommunications (telecom) equipment companies. Operator investment levels in Europe were also slow, while they were stable in the United States (SPY).
In October 2016, Ericsson announced its preliminary 3Q16 earnings, which were significantly lower than its expectations. The company's sales were impacted by industry trends, which had been negatively affecting the mobile equipment sector since early 2016.
Ericsson stated that sales in its Segment Networks business had fallen, driven by a weak macroeconomic environment in markets such as Brazil, the Middle East, and Russia.
Article continues below advertisement
Ericsson's capacity sales also missed expectations in Europe following the completion of its mobile broadband projects last year. Ericsson's sales have fallen in most of the last ten years. Its overall revenue fell 14% YoY (year-over-year) in 3Q16, whereas its Segment Networks business's sales fell 19% YoY.
Falls in revenue, gross margin
Ericsson announced preliminary revenue of 51.1 billion Swedish krona in 3Q16, compared to 59.2 billion krona in 3Q15 and 54.1 billion krona in 2Q16. Its gross margin also fell to 28.3% compared to 34% in 3Q15 and 32.3% in 2Q16, driven by "lower volumes in Segment Networks, lower mobile broadband capacity sales, and higher share of services sales," according to the company.
ERIC's operating income also fell 94% YoY, from 5.1 billion krona in 3Q15 to 0.3 billion krona in 3Q16. Ericsson expects these trends to continue in the short term.