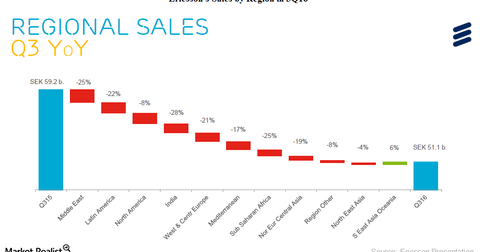 What Caused the Slowdown in Ericsson's Mobile Equipment Business?
By Adam Rogers

Updated
Reduced broadband spending in emerging markets
In the previous article, we saw that the primary cause of Ericsson's (ERIC) slowing revenue has been reduced mobile broadband spending in markets such as Russia, the Middle East, and Brazil (BZQ). 
In addition, while Europe and other developed markets have almost finished with the 4G LTE (fourth-generation long-term evolution) rollout, the transition to 5G (fifth-generation) technology isn't expected to start before 2020.
Article continues below advertisement
As we can see in the chart above, Ericsson's regional sales in the Middle East, Latin America, and India fell 25%, 22%, and 28% YoY (year-over-year), respectively, in 3Q16. According to Ericsson in its 3Q16 results report, "In the first half of 2016, a number of important markets, in regions such as Latin America, Middle East and Sub-Saharan Africa, were impacted by a weak macro-economic environment. This negative development accelerated in the third quarter and had a negative effect on both mobile broadband coverage and capacity sales in these markets."
Will the slowdown affect peer companies too?
Analysts believe that the revenues of companies such as Cisco (CSCO) and Nokia (NOK) won't be affected as negatively as Ericsson's revenue. Both companies have broader product portfolios than Ericsson and are thus protected by cyclical headwinds arising from the mobile equipment industry.
Nokia completed its acquisition of Alcatel-Lucent this year, whereas Ericsson partnered with Cisco to fight the growing competition arising from China's (FXI) Huawei.
In 2012, Huawei surpassed Ericsson as the world's largest telecommunications equipment vendor. In 2015, sales for Huawei rose 37% YoY (year-over-year), and sales in its Carrier segment rose 21% YoY, driven by its 4G LTE rollouts. In comparison, sales for Ericsson, Cisco, and Nokia rose 8%, 4.3%, and 6%, respectively, YoY in 2015.