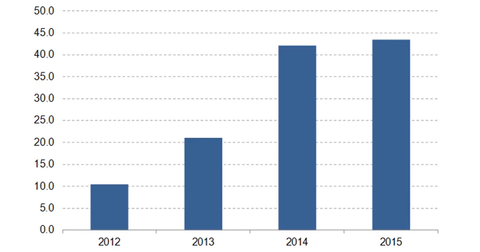 Can Yelp Stock Earn Solid Reviews in 2017?
By Adam Rogers

Updated
YELP fell 3% on December 28
Yelp (YELP) fell 3% on December 28, 2016, although its stock has risen significantly in 2016. In the trailing 12-month period, Yelp has generated returns of 39%. In the trailing one-month period, its returns have been almost 2%.
Earlier in 2016, Yelp stated that it is pulling the plug on global expansion so it can concentrate on serving local businesses in the US and Canada.
In 3Q16, Yelp (YELP) reported revenues of $186 million, a rise of 29.7% YoY (year-over-year) from ~$143.6 million in 3Q15. However, Yelp's operating expenses rose sharply in the last three years to more than $571 million in 2015 from just $156 million in 2012. The company has also spent $43.5 million on capital expenditure in 2015, up from $10.5 million in 2012.
With its soaring costs, it seems that Yelp's management has realized that its massive investment in growing the business abroad has achieved little. Its management seems to see no need to continue on a money-losing course.
Article continues below advertisement
Layoffs and headcount reduction
In November 2016, Yelp (YELP) also announced planned layoffs of 4% of its workforce, a move that would cut ~175 jobs and reduce the company's payroll burden. Since going public in 2012, Yelp has struggled to post ongoing quarterly profits.
Yelp's decision to focus on its domestic market instead of aggressive global expansion mirrors a move by Groupon (GRPN), which also decided to halt its globalization efforts amid soaring costs and losses.
Google search issue
Yelp, which generates its revenues from advertising on its platform from local and national brands, relied heavily on Google searches to steer traffic to its website. However, Google (GOOG) was accused of pushing its own reviews over the competition by altering the search results, which negatively impacted Yelp. In addition, Yelp was battling competition from larger players such as Facebook (FB), Amazon (AMZN), and Priceline (PCLN).
As more consumers are shifting toward mobile, Yelp has been able to drive consumers to download its mobile app. This shift lowers its dependence on Google searches and drives higher user engagement.
Given Yelp's strong financial performance in the first nine months of 2016, its decline in dependence on Google searches, as well as reaccelerating local ad revenues, Yelp's turnaround hopes seem to be gaining steam.