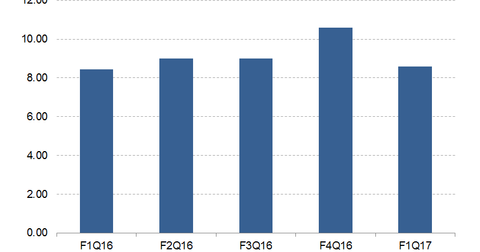 Can Dyn Help Oracle Put a Dent in Amazon's Cloud Business?
By Ruchi Gupta

Dec. 1 2016, Published 10:32 a.m. ET
Oracle is paying an undisclosed amount for Dyn
Oracle (ORCL) is acquiring Dyn, a domain-name systems provider, for an undisclosed amount of money. But the target of the acquisition is obvious: to strengthen Oracle's cloud computing business.
Oracle plans to integrate the technology that Dyn is bringing on board into its cloud services. Dyn should help Oracle expand its business of selling web-based tools and applications. For instance, with Dyn in its portfolio, Oracle would offer its cloud customers crucial Internet performance data to help them know how fast their web pages are loading. With this information, Oracle cloud customers could optimize their cloud infrastructure resources.
Oracle needs to tap into disruptive cloud computing to grow its top line.
Article continues below advertisement
Cloud computing arms race
Oracle has tapped Dyn at a time when the company is trying to catch up with Amazon (AMZN) and Microsoft (MSFT) in the cloud computing market. Oracle once thought cloud computing was only a fad, but the more it gave the business of selling computing resources over the Internet a wide berth, the more it fell behind the competition. However, Oracle is now betting on strategic acquisitions, software expertise, and customer network to quickly turn around its cloud business.
While Amazon and Microsoft have significant leads in selling cloud infrastructure to businesses, Oracle is looking to take market share from them with cloud-based applications and data analytics tools. As such, Salesforce.com (CRM) is also in Oracle's crosshairs.
Security questions over Dyn
While Dyn is bringing key technology to Oracle, security questions hang over it. Last month, Dyn suffered an attack in which several websites that rely on its system to direct traffic were unreachable. Sites operated by PayPal (PYPL), Twitter (TWTR), and Netflix (NFLX) suffered part of the day following the attack. The disruption came as a result of Dyn's servers being jammed by hacked traffic from Internet-connected devices.