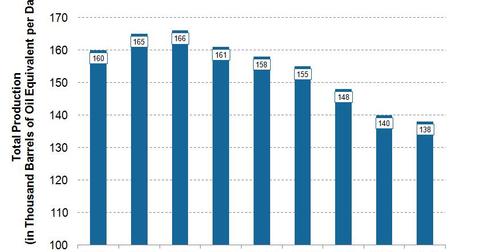 California Resources Reported Its Lowest Ever Production in 3Q16
By Nicholas Chapman

Updated
California Resources' production in 3Q16
In 3Q16, California Resources (CRC) reported total production of ~138 Mboepd (thousand barrels of oil equivalent per day), which was within its 3Q16 production guidance range of 134–139 Mboepd. CRC's 3Q16 production was ~13% lower than its 3Q15 production of ~158 Mboepd.
Most, or ~96 Mboepd, of California Resources' 3Q16 production came from the San Joaquin Basin in California. Within the San Joaquin Basin, Elk Hills is CRC's key asset. It was responsible for ~58% of San Joaquin's production in 3Q16.
Article continues below advertisement
Production trend
As seen in the chart above, California Resources' quarter-over-quarter production volumes peaked in 1Q15. Subsequently, CRC reported much lower production volumes. CRC's 3Q16 production volume of ~138 Mboepd was the lowest ever production volume it's reported.
Sequentially, California Resources' 3Q16 production was ~1% lower compared to 2Q16. Due to higher trending crude oil and natural gas prices, CRC increased its activity levels in 3Q16, helping it to achieve a relatively small quarter-over-quarter production fall in 3Q16. In 2Q16, CRC's quarter-over-quarter production was ~5% lower than in 1Q16.
Why CRC reported its lowest ever production in 3Q16
CRC's lower 3Q16 production can primarily be attributed to its lower capital expenditure on well development activities. In 1H16, in order to save costs, CRC deferred certain workover and downhole maintenance activities, which also negatively affected its 3Q16 production. Production sharing contracts also resulted in lower production for CRC in 3Q16.
Article continues below advertisement
Rig activity
In 3Q16, CRC deployed one and half drilling rigs. CRC deployed one full time drilling rig in the San Joaquin Basin and another rig (on a half-time basis) in the Wilmington field in the Los Angeles Basin. CRC's San Joaquin basin has two core steamfloods, Kern Front and Lost Hills. The one drilling rig deployed in the San Joaquin Basin will focus on these steamfloods.
Production guidance
For 4Q16, California Resources expects production in the range of 132–137 Mboepd. For 2016, California Resources expects a production fall of 12%–14%, compared to its 2015 production of ~160 Mboepd.
Other oil and gas producers
Other S&P 500 (SPY) upstream companies Devon Energy (DVN) and Marathon Oil (MRO) have reported ~15% and ~7% year-over-year falls in their 3Q16 productions, respectively, whereas Pioneer Natural Resources (PXD) has reported a ~13% year-over-year rise in its 3Q16 production.
The SPDR S&P Oil & Gas Exploration & Production ETF (XOP) generally invests at least 80% of its total assets in oil and gas exploration companies.