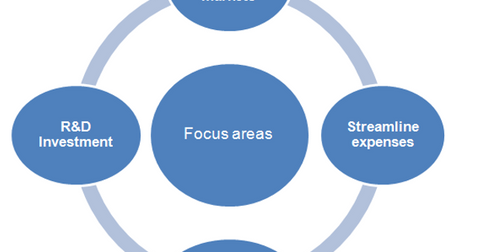 Bristol-Myers Squibb Plans to Strengthen Its Operating Model in 2017
By Margaret Patrick

Updated
Operating model changes
In 2016, Bristol-Myers Squibb (BMY) adopted the strategy of ensuring optimal allocation of its resources across its research and commercial operations. The company has been targeting four key areas as steps to strengthen its operating model.
If the company succeeds in its strategy, it could have a positive impact on its stock, as well as on the Vanguard Total Stock Market ETF (VTI). Bristol-Myers Squibb makes up ~0.49% of VTI's total portfolio holdings.
Article continues below advertisement
Focus areas
To drive growth, Bristol-Myers Squibb (BMY) plans to target its resources over selected brands across strategic markets. This is expected to enable the company to compete more effectively with peers such as Pfizer (PFE), Merck (MRK), and Eli Lilly (LLY).
Bristol-Myers Squibb is also actively investing in research and development (or R&D) operations with the aim of launching new products at the right pace and in response to changing customer needs.
In addition, the company has made it a priority to strengthen its manufacturing network as well as simplify its supply chain network. These efforts are directed both toward biologics and small molecule drugs. Because biologics currently form 75% of the company's overall developmental efforts, Bristol-Myers Squibb has invested heavily in building state-of-the-art biologics facilities in Devens, Massachusetts, and Cruiserath, Ireland.
Bristol-Myers Squibb has been aggressively seeking ways to streamline its general and administrative (or G&A) expenses. Despite continued investments and new drug launches, the company expects non-GAAP[1. generally accepted accounting principles] operating expenses to remain stable from 2016 to 2020.
In the next article, we'll explore the prospects for Bristol-Myers Squibb's hepatitis B drug, Baraclude.