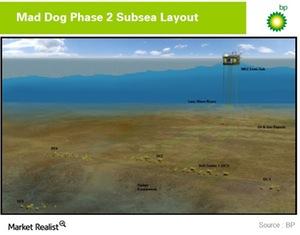 BP Approves Mad Dog Phase 2: A Revised, Economical Deepwater Project
By Maitali Ramkumar

Dec. 9 2016, Updated 11:51 a.m. ET
Series overview
On December 1, 2016, BP (BP) announced that it approved its deepwater project, Mad Dog Phase 2, in the Gulf of Mexico. Before discussing the details, let's have a look at the series overview.
In this series, we'll provide an update of BP's market performance followed by a detailed financial analysis. In the next few parts, we'll examine BP's latest stock performance, analyst ratings, dividend yield trends, and short interest position. We'll also look at BP's institutional ownership status, implied volatility movements, valuations, and correlation to oil.
Article continues below advertisement
As we wrap up the series, we'll switch to a fundamental analysis by studying the company's segment dynamics, upstream performance and portfolio, and downstream performance. We'll also analyze BP's financial position by examining its leverage and cash flow position. First, let's begin by looking at BP's Mad Dog Phase 2 project.
BP approves Mad Dog Phase 2
BP has approved its deepwater project, Mad Dog Phase 2, in the Gulf of Mexico. Consisting of a floating production platform, the project is expected to produce 140,000 barrels of crude oil per day starting in 2021. Although the Mad Dog field started production in 2005, the resource estimates increased in 2009–2011 and the requirement for Phase 2 arose.
However, in 2013, the stakeholders decided to reassess the project as it appeared to be complex and expensive. The stakeholders include BP—the project's operator—with a 60.5% stake, BHP Billiton (BHP) with a 23.9% stake, and Union Oil Company of California—Chevron's (CVX) affiliate—with a 15.6% stake.
Article continues below advertisement
Costs and management comments
BP reworked the platform's design to create an economical project that would be feasible even in the current oil price environment. The project currently costs ~$9 billion, less than half of the original cost. The project initially required an investment of more than $20 billion. With the new cost parameters in place, BP has made the final investment decision (or FID) on the project. However, BHP Billiton and Union Oil Company of California have not yet made their FIDs on the project.
On December 1, 2016, Bob Dudley, BP Group's chief executive, stated, "This announcement shows that big deepwater projects can still be economic in a low price environment in the U.S. if they are designed in a smart and cost-effective way. It also demonstrates the resilience of our strategy which is focused on building on incumbent positions in the world's most prolific hydrocarbon basins while relentlessly focusing on value over volume."
The project would add to the BP's Upstream portfolio. BP's major upcoming projects are expected to generate 800,000 barrels of oil equivalent per day (or boepd) of new production from 2016–2020. We'll examine these details later in the series. For global stock exposure, you could consider the Vanguard Total World Stock ETF (VT).
Move on to the next part to have a look at BP's stock performance.