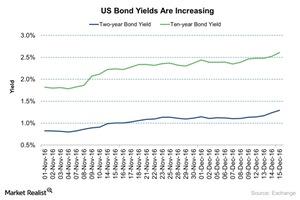 Bond Yield Sees Highs as Expectations for Future Rate Hikes Rise
By Sarah Sands

Updated
Bond yield rises
When international turmoil affects the markets, investors across the globe (VEU) (VTI) move away from riskier assets such as global equities and enter safe-haven assets such as gold (GLD), the Japanese yen (FXY), and government debt, all of which show strong movement as demand rises.
When the economy shows strength, investors put their money into equities. The expectation for improvement in the US economy has been improving, increasing expectations for future rate hikes.
Article continues below advertisement
After the Federal Reserve increased the key interest rate by 25 basis points, the two-year US government bond yield (SHY) rose nearly 8.9%, one of its highest movements, on December 14, 2016. Bond prices (TLH) generally fall when the interest rate rises. Bond yields, which move inversely to bond prices, generally rise.
In the last three months, the yield curve has been gradually steepening. As the expectation of a December Fed rate hike rose after it maintained the status quo in September, bond prices started to fall, indicating that the economy would likely experience a gradual rate hike process.
Yield curve
The yield curve has a significant correlation with economic growth. A steeper yield curve indicates rapid economic growth going forward. As bond prices fall, markets anticipate that future interest rates will be higher. Higher interest rates are appropriate when the economy is stronger. Likewise, an inverted yield curve indicates a recessionary situation in the economy (IWM) (VOO) (QQQ).
In the next part of this series, we'll analyze the performances of various economic indicators in the US economy.