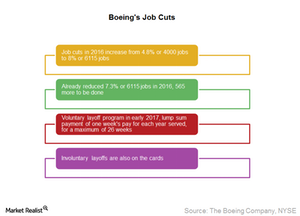 Boeing Announces Additional Job Cuts in Commercial Aviation Division
By Ally Schmidt

Updated
Job cuts in 2017
Boeing (BA) plans to implement a voluntary layoff program in early 2017, according to a memo released by its Commercial Aviation unit on December 19, 2016. However, involuntary layoffs are also in the cards if Boeing isn't able to achieve its cost reduction goals through voluntary layoffs.
Boeing employees who take part in the voluntary layoff program would be eligible to receive a lump sum payment of one week's pay for each year served, for a maximum of 26 weeks.
In the company-wide memo, Kevin McAllister, president and CEO of Boeing Commercial Airplanes, and Ray Conner, Boeing's vice chairman, said, "To successfully compete and win new orders that will fund future product development and growth requires us to achieve much better performance."
The memo added that the company "will need to do more in 2017" to increase the affordability of its aircraft and to achieve lower costs.
Article continues below advertisement
2016 job cuts increased
In March 2016, Boeing (BA) stated that it would cut 4,000 jobs, or ~4.8%, from its Commercial Aviation division. The company plans to implement a nearly 8% job cut by the end of 2016, including a 10% reduction of executives and managers. The division has already cut 6,115 (7.3%) jobs in 2016, which would result in another 565 job cuts in 2016.
Boeing is the largest commercial jet manufacturer in the US and is the world's second-largest manufacturer behind Airbus. It is also the second-largest defense contractor in the US behind Lockheed Martin (LMT). Boeing is followed by Raytheon (RTN), General Dynamics (GD), and Northrop Grumman (NOC).
Boeing forms ~5.7% of the Dow Jones Industrial Average ETF's (DIA) portfolio.