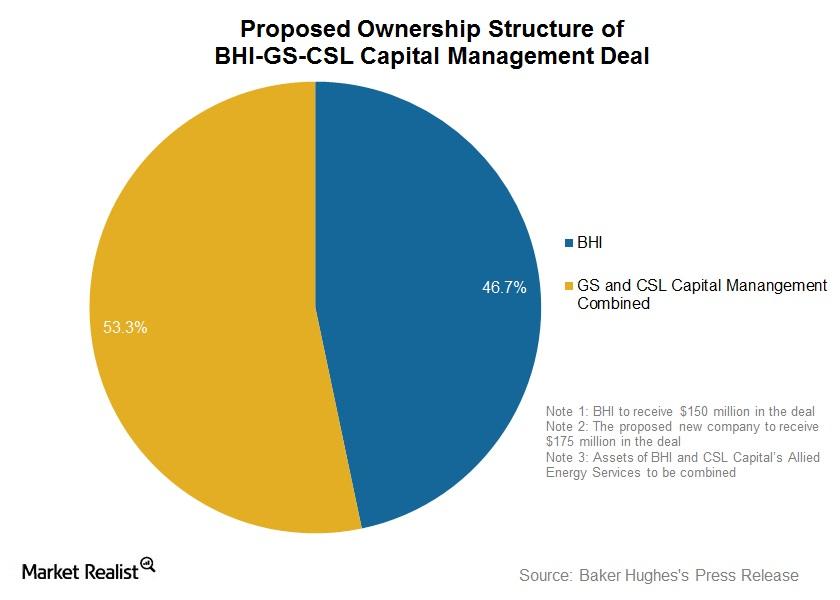 BHI, GS, and CSL Capital to Create an OFS Newco
By Alex Chamberlin

Nov. 20 2020, Updated 3:59 p.m. ET
BHI, GS, and CSL Capital to form a new OFS company
On November 30, Baker Hughes (BHI), CSL Capital Management, and West Street Energy Partners (WSEP) disclosed that they have agreed to form a land-based pressure pumping company. The new company or newco, as proposed, will operate under the brand BJ Services and will be privately held.
BHI is the third-largest OFS (oilfield equipment and services) company in the US by market capitalization. WSEP is a fund managed by Goldman Sachs's (GS) Merchant Banking division. CSL Capital Management is a private equity firm focused on small and midsized US energy companies.
Article continues below advertisement
Ownership structure
According to the agreement, BHI will own ~46.8% of the new company, while CSL Capital Management and WSEP together will own the remaining ~53.2%. BHI will also receive $150 million from CSL Capital Management and WSEP, while the new company will receive $175 million from these two partners.
What will form the newco's asset base?
BHI's North American land cementing and hydraulic fracturing or fracking businesses and CSL Capital's Allied Energy Services platform will combine to form the new company. BHI's land cementing and fracking business is part of its Completion Systems product line and is spread over the US and Canada. CSL Capital's Allied Energy Services, too, currently has a fracking and cementing business in North America.
Article continues below advertisement
BHI to contribute technology support
The proposed new company, BJ Services, can utilize BHI's pressure pumping technology through a licensing agreement. Baker Hughes will continue to offer products and services to its North America land drilling operators through BJ Services.
Management structure
Warren Zemlak, President and CEO (chief executive officer) of Allied Energy Services, is set to become the new company's CEO. Notably, BHI makes 0.14% of the SPDR S&P 500 ETF (SPY).
In the next part of this series, we'll discuss why the OFS industry could be changing. We'll also discuss BHI shareholders' reaction to this deal.