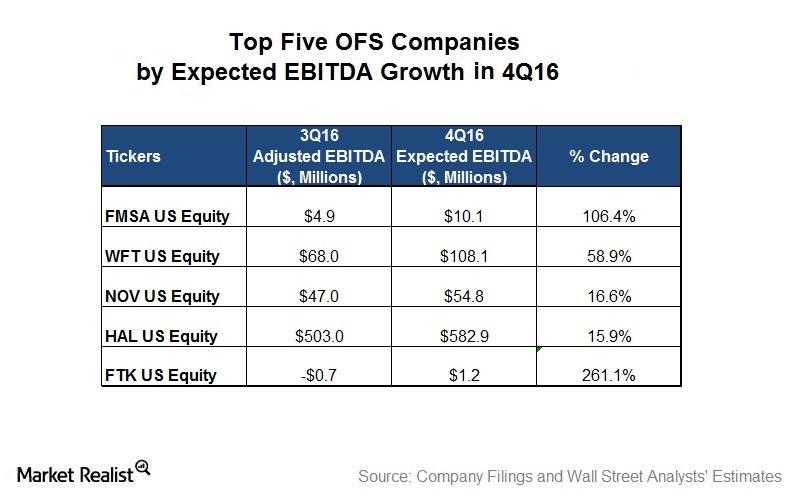 Best Oilfield Service Stocks for 4Q16: Earnings Growth
Will Flotek Industries be the outperformer?
Wall Street analysts expect Flotek Industries (FTK) to register positive EBITDA (or earnings before interest, tax, depreciation & amortization) in 4Q16 compared to a negative adjusted EBITDA in 3Q16. FTK resisted energy market weakness through steady performance in its energy chemistry segment. EBITDA measures a company's operating earnings. Read more about Flotek Industries in Market Realist's Flotek Industries' Guidance: Did It Boost the Stock's Volatility?.
Flotek Industries is expected to post $1.2 million in adjusted EBITDA in 4Q16; a switch over from -$0.7 million in 3Q16. FTK expects growth to come from:
an agreement with Anton Oilfield Services Group of China
growth opportunities in South America
the acquisition of International Polymerics in July
Article continues below advertisement
FMSA's and WFT's expected EBITDA growth
Fairmount Santrol Holdings (FMSA) is expected to post $10.1 million adjusted EBITDA in 4Q16. This would more than double compared to 3Q16. FMSA's management plans to reduce operating costs across all product categories, by re-negotiating railcar leases and purchase contracts. It also aims to improve operating cost efficiency through focusing on cost-effective operations.
Weatherford International's (WFT) adjusted EBITDA expected by Wall Street analysts is ~$108 million in 4Q16, up 59% compared to 3Q16. A stronger North American energy market is expected to brighten WFT's future in 4Q16. Wall Street analysts also expect Halliburton's (HAL) EBITDA to increase ~16% in 4Q16 over 3Q16. Halliburton is 0.22% of the iShares S&P 500 Value ETF (IVE).
Next, we'll discuss the five OFS companies by steepest expected EBITDA declines in 4Q16.