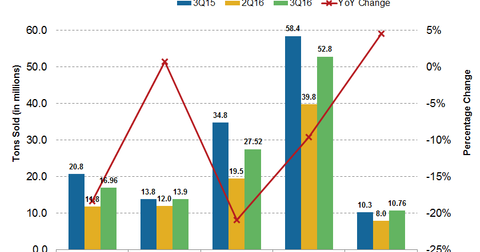 Behind Major Coal Mining Companies' 3Q16 Shipment Growth
By Sheldon Krieger

Updated
3Q16 shipments
All major coal mining companies reported higher coal (KOL) shipments in 3Q16 compared to 2Q16. However, a majority of them reported lower shipments on a YoY (year-over-year) basis.
For 3Q16, total shipments of Westmoreland Coal (WLB) came in at 13.9 million tons compared to 13.8 million tons in 3Q15. Cloud Peak Energy (CLD) reported its consolidated 3Q16 shipments as ~17.0 million tons compared to 20.8 million tons in 3Q15.
Peabody Energy's (BTUUQ) 3Q16 shipments came in at 52.8 million tons compared to 58.4 million tons in 3Q15. Arch Coal (ARCH) reported ~27.5 million tons as its 3Q16 shipments compared to 34.8 million tons in 3Q15.
Alliance Resource Partners (ARLP) reported significant improvement in coal shipments both on a YoY and quarter-pver-quarter basis when compared to its peers. Its 3Q16 shipments totaled ~10.8 million tons compared to 10.3 million tons in 3Q15.
Article continues below advertisement
Shipment growth rates
Except Westmoreland Coal and Alliance Resource Partners, other major coal mining companies witnessed a double-digit decline in their shipment growth rates in 3Q16, on a YoY basis.
Among major coal mining companies, Arch Coal reported the highest fall in its 3Q16 shipments on a YoY basis. Arch Coal's shipments dropped nearly 21%, followed by Cloud Peak Energy with an 18% drop. Industry major Peabody Energy's shipments dropped nearly 10%. However, Alliance Resource Partners and Westmoreland Coal witnessed respective rises of ~5% and 1% in their 3Q16 shipments.
What helped WLB and ARLP?
The YoY increase in Westmoreland Coal's shipments was primarily due to the company's San Juan acquisition in January 2016. Moreover, operational improvements at its Coal-WLMP segment helped it report higher shipments both on a quarter-over-quarter and on a YoY basis.
Strong sales performance at the River View, Gibson South, and Tunnel Ridge mines and lower customer stockpiles helped ARLP to report higher coal shipments in 3Q16.
In the next part of this series, we'll compare the coal pricing of major coal mining companies in 3Q16.