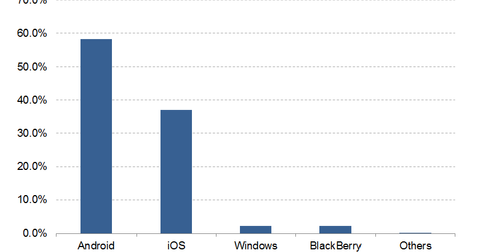 Why Apple's Tim Cook Can Afford to Smile
By Ruchi Gupta

Updated
Battle for Apple Pay technology
Apple (AAPL) and a group of banks in Australia (EWA) are waiting for March 2017 with bated breath to see if the country's antitrust body will stick to its draft determination not to allow certain banks to boycott Apple Pay—or to see if the agency will shift its position.
If the final decision comes in Apple's favor, it would allow for a speedy rollout of Apple Pay in Australia, one of the countries where electronic payment is advanced. Apple controls ~37% of smartphone market share in Australia.
Article continues below advertisement
Australian banks raise questions
Several Australian banks including Bendigo and Adelaide Bank, Westpac Banking, and Commonwealth Bank of Australia are seeking to force Apple to share access to Apple Pay technology with them. They argue that access to Apple Pay's NFC technology would allow them to foster competition in Australia's digital payments market by offering rival solutions on iOS platform.
The banks also argue that denying them access to Apple Pay technology would give Apple undue advantage in the mobile payment space in Australia. If Apple cannot agree to their technology access request, the banks have threatened, they will avoid Apple Pay altogether.
Apple needs the support of these banks, considering that they alone control nearly two-thirds of Australia's household credit and deposits. But Apple can't share access to Apple Pay technology for security and privacy reasons. Apple also doesn't want the banks to charge customers for using Apple Pay, which it believes the lenders are eyeing.
Final verdict in March
Last week, the ACCC (Australian Competition and Consumer Commission) made a draft determination on the dispute between Apple and the banks and promised to make a final decision in March 2017. Apple welcomed the draft ruling.
Apple is working to make Apple Pay more popular than rival services from Square (SQ), PayPal (PYPL), Samsung (SSNLF), and Alphabet (GOOGL).