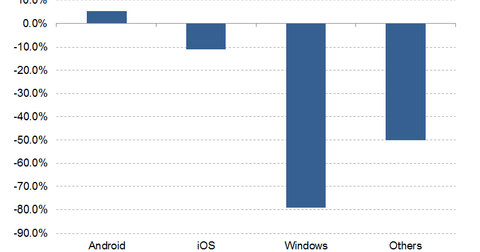 How Apple's Dwindling Fortunes Are Hurting Smartphone Sales
By Ruchi Gupta

Updated
iPhone sales, falling Apple revenues
Apple's (AAPL) falling iPhone sales have driven the company's third consecutive quarter of overall sales declines, rattling the smartphone world.
According to IDC, iPhone shipments are set to fall 11% in 2016, as compared to the volumes shipped in 2015, and global smartphone shipments are expected to rise less than 1% over the volumes shipped last year. All this signals a sharp slowdown, considering that smartphone shipments rose 10.4% in 2015, with a 47% shipment growth registered in 2012. It's safe to say that the diminishing interest in Apple's iPhone has been driving down overall smartphone shipments.
Article continues below advertisement
Android's share to grow 5%
Apple is a large player in the smartphone space, controlling ~14% share of the market. But IDC estimates show the market share of smartphones running Android OS from Alphabet (GOOGL) will rise 5% this year.
Android accounts for 85% of the smartphone market share, with Microsoft's (MSFT) Windows and other operating systems accounting for less than 1%.
Problems in mature markets
The slowing effect of decelerating iPhone sales on smartphone shipment growth can be blamed on smartphone penetration hitting peak levels in developed markets like the US and Europe, leading to the weaker uptake of Apple's devices.
Other than market saturation, the move away from handset discounting by US wireless carriers AT&T (T) and Verizon Communications (VZ) has meant that subscribers are holding onto their devices longer, hurting sales of new smartphones. T-Mobile's (TMUS) Uncarrier disruption triggered the end of the legacy two-year contracts, which supported more frequent handset upgrades and helped vendors like Apple to sell more iPhones.
Although the uptake of smartphones in China, India, and other emerging markets remains strong, given rising consumer incomes and the availability of low-cost handsets, this growth has been and will continue to be offset by cooling mature markets.